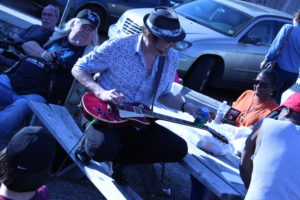 I never thought I'd call a blues band "authentic" that splashed a heavy dollup of Ramones punk attitude onto a bed of alien invasion smoothy guitars, but Ted Drozdowski's Scissormen on their sixth album Love & Life are unquestionably authentic. And as the former music editor of The Boston Phoenix, Drozdowski has the music journalist creds to nail exactly why his music is authentic: "Big chunks of sound always sound good to me, things I can grab onto and comprehend even if they're weird. I just kind of love 'em, and I just like to roll the way a dog likes to roll in the grass."
Love & Life is less about melody than mood and texture. With touchstones from a century of blues and in a plethora of rock styles, he makes me want to put on a pair of cheap shades and set the cruise control on infinity. Don't bother to tell me when we've left the ground, because Drozdowski's music already has me half way to Pluto.
"When you hear Muddy Waters do that whinnying crazy slide stuff down the neck, he's not worrying about the note pad or anything," says Drozdowksi. "He's trying to create this sound that's screaming or crying or a ghost, and that's what he's going for, and that's the sort of thing I do, too. I like to think in terms of big blocks of sound, 'cause I think it's easier for people to get big blocks of sound."
Drozdowski pays homage to R. L. Burnside, Watermelon Slim, and Boston bluesman Willie Robinson on this album. His one cover is Muddy Waters' "Can't Be Satisfied." The late Mighty Sam McClean handles guest vocals on "Let's Go to Memphis," and Bobby Rush's keyboard man Paul Brown channels early Moody Blues pianist Mike Pinder on "Black Lung Fever" about Ted's two mining grandfathers who were black "when they crawled out of that hole."
It's so easy for today's blues artists to ossify Muddy Waters' electric splashes of emotion from 60 years ago into a rigid format. Drozdowski refuses to get stuck in such blind emulation. "To me to be authentic in playing this music you have to embrace the tradition of innovation. That might at first sound like those are opposing things, but it's not because to me the blues was always an innovative music."
Drozdowski says innovation in blues got stifled about the time when the record labels began processing the "ripping crescendos" of artists like Buddy Guy and Otis Rush for mass consumption. "It was a point where it started to sell to the mainstream, and then the record labels got a hold of it and decided to package it, and certain people accept that packaged style of blues as being the ultimate version of what blues is whether it's Howlin' Wolf's London Sessions with Clapton and those guys or John Mayall and the Bluesbreakers, but that era just sort of happened. Instead of folk music evolving like the people evolved, it became a commodity.
"The truth is it's an evolutionary music, and it always has been, and I think, too, music evolved and to not try to inject your own personality into it is an error that 99% of contemporary blues artists seem to make. There are obvious exceptions like Derek Trucks who has all these incredibly polygamous tastes and can work all this amazing stuff into the music, and Warren Haynes who is also this great pluralist. I think people who are making traditional blues records and feel like they're actually making traditional blues records are a little off the mark because the blues has traditionally been like African American culture, a style and a culture of innovation and evolutionary growth."
Love & Life's unconventional sound owes much to the way it was recorded at Omega Lab on a mountain outside of Nashville. "It was (in a tent), the kind of tent they would erect in the desert to work on a tank inside. So it's a heavy duty sort of military garage tent, and they are all military surplus, and that space is great. Not only is it a big space so there's plenty of room for people, but (engineer Robert E. McClain) also has a Dolby 7.2 recording and playback system.
"But it's definitely not your typical tent, but it is nonetheless a tent, and it's got an extremely low draw. The power amplifiers he uses are car amplifiers like the kind you hear when a car goes by, and it's got that bass that is literally shaking the metal of the car, and you can hear it from four blocks away. You've got those kind of power amps being run by batteries. So they're amplifying the signal up, and that's the kind of signal you actually start plugging the amplifiers in and working, that kind of power input."
Drozdowski's biggest blues influence was his friend R. L. Burnside who brought Delta blues into the punk fraternity and was never one to stand on tradition at the expense of a good rip. "R. L. Burnside (Sleight Return)" tells a true story of a hang he had with R. L. delivered on a buzz saw guitar riff over a loping rhythm section. "R. L. came to my house and we cooked dinner, and we were like, 'What are we gonna do now? Wanna play music or something?' 'Well, I'd really like to watch a movie.'
"So he goes, 'Oh, I wanna see this. I haven't seen this since I was a boy,' and he reaches in, and it's Amos and Andy Check and Double Check which is pretty racist. It's a couple of white guys in black face, and I felt a little awkward about it, but I put it on, and right from the very first joke which is Amos and Andy sitting in this taxi company office, and Andy goes to Amos, 'Amos, I think I'm gonna go home and unlax,' and when he says unlax, R. L. just starts breaking up, and he just roared at every joke.
"After the movie was over, he told us he used to save up his nickels with his buddies, and they'd ride their bikes all the way from Holly Springs, Mississippi to Memphis to see the Amos & Andy movies when they came out, and then when they'd come home at night and the headlights were on the roadway, they'd throw their bikes into the dirt in the ditch and go hide in the woods in case it was night riders.
"So that night has never left my brain. It's a noble experience for me. R. L. sharing that and the whole idea of this weird prism of American race in there, too, where you've got this senior African American bluesman laughing at this really racist movie, but then recounting as a child he was afraid he would be beaten or worse by racists on the way home from seeing this racist movie."
A friend for 20 years, Sam McClain phoned in soulful vocals on "Let's Go to Memphis," one of the more traditional songs on the CD inspired by a romantic weekend that Drozdowski spent with his wife in Memphis. "I just love his vocal performances, and when I got it back I almost wept to hear Sam sing on a song of mine. I love Memphis. I love Stax, I love Sam, and to have all those things come together and for me, too, it was also a chance to show a traditional side of my songwriting and craft that I haven't really displayed before."
"The River," this journalist's favorite cut on the album, has a horror movie ambiance that presages disaster in a spooky way. "One night (my wife) Laurie and I were driving down old Highway 4 north of Oxford, Mississippi, and there's a railroad bridge that parallels the highway. It's old and rusted, and we stopped by the highway, and it was a really foggy night. So the moon looked like a partially swaddled cotton tip up there in the sky, and there were these birds. I could just see the dark wings of their silhouette going by, and the water was swirling and muddy and dark, and you couldn't really see what was in there. It felt like there was a mystery in the water somewhere. And the lyrics to that song just started to formulate themselves."
R. L. Burnside was given a get-out-of-jail card for blending – and sometimes clashing – "authentic" Delta music with garage rock influences. For a white musician whose background includes playing in Boston rock bands at the height of the alternative rock era to pull it off with such élan is particularly noteworthy. The roller coaster ride he creates in the process is the cherry on the cake.
"So when I was making this record, I really just kinda developed my own m.o., and that was I wanted a lot of them to be true or at least have some elements of truth to me because personally I don't really want to hear anybody sing about their feelings. As soon as somebody starts singing about their feelings, my brain clicks off. Tell me about your feelings by telling me a story. Don't spill your guts. Give me a story that makes me react to it and feel those same feelings. That's the stuff that really makes me excited."