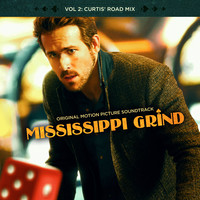 (LOS ANGELES, CA) – Lakeshore Records will release two soundtracks for the film Mississippi Grind starring Ryan Reynolds and Ben Mendelsohn. The albums are VOL 1: GERRY'S ROAD MIX and VOL 2: CURTIS' ROAD MIX, both will be available digitally on September 18, 2015, and are film-inspired compilations of amazing blues tracks. Now you can hear the first track off the albums, an original from the great Leo "Bud" Welch, who was prominently featured in last November's American Blues Scene Magazine!
Setting the tone are powerful tracks from such esteemed legends of Blues as Memphis Slim, Furry Lewis and John Lee Hooker. Each volume is a musical reflection of the state mind of an individual character. A rare look into the deeper motivations of the complex and vivid men in the movie, each volume is as different as the fates and choices of the gambling men they portray. Through the songs of Big Bill Broonzy, Memphis Minnie and Joe Callicott, and others, the actions and choices of Mississippi Grind are illuminated all the more.  Leo "Bud" Welch's original track "I Don't Know Her Name" is also featured on the "Curtis' Road Mix" recording.
In Mississippi Grind, a lively, freewheeling road movie, EMMY® Award nominee Ben Mendelsohn plays Gerry, a talented but down-on-his-luck gambler whose fortunes begins to change when he meets Curtis (Ryan Reynolds), a younger, highly charismatic poker player. The two strike up an immediate friendship and Gerry quickly persuades his new friend to accompany him on a road trip to a legendary high stakes poker game in New Orleans. As they make their way down the Mississippi River, Gerry and Curtis manage to find themselves in just about every bar, racetrack, casino, and pool hall they can find, experiencing both incredible highs and dispiriting lows, but ultimately forging a deep and genuine bond that will stay with them long after their adventure is over.