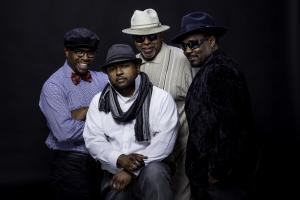 When guitarist/singer/songwriter Zac Harmon won the International Blues Challenge in 2004, he was representing his Los Angeles blues society and not his home town of Jackson, Mississippi, but he chuckles now thinking about why he entered the contest. "The reason I wanted to go to Memphis is because it would be close enough for all my folks from Jackson to come up and see me play."
The old saw about not being able to go home again is rarely true for blues artists who draw deeply from their Delta roots. True blues is infused with delta dirt and the ghosts that haunt the memories and inspire the muse of artists like Zac Harmon.
Harmon once again returns to the Deep South on Thursday, October 8, to perform at the 30th annual King Biscuit Blues Festival in Helena, Arkansas. Then on Saturday he will participate in The Festival's fifth annual Call and Response Blues Symposium that I will be hosting with Roger Stolle at the Malco Theatre in downtown Helena, Arkansas. American Blues Scene Editor Matt Marshall is one of my guests. We will be discussing the focus King Biscuit puts on is native sons and daughters and what draws them back home.
Talking to Zac, There is little doubt where his heart is. "From the artistic standpoint for slaves (blues) was an expression. They had very few expressions. It wasn't like they were going skiing for the weekend. They had very few expressions, and this was the expression. The juke joint on Saturday night – that was it. It was all concentrated in that. For the other folks, plantation owners and so forth, these folks enjoyed the music. It was very entertaining for them. So this was a time when everybody got together and shared joy rather than sharing in pain."
Zac Harmon's dad was the first registered black pharmacist with a store on the main street in Jackson, Mississippi. His customers included B. B. King, Bobby Rush, Ike and Tina Turner, and Little Milton. Dad knew Muddy Waters by his real name McKinley Morganfield. Son Zac was influenced as a kid by local guitarists Mel Brown and Jesse Robinson who played with Howlin' Wolf. At age 18 Zac was playing with Dorothy Moore, ZZ Hill and other well-known blues artists who were passing through on regional tours.
Vocalist and band leader Sam Myers was a best friend to both Zac and his dad. Myers sold Zac's dad brooms for Mississippi Industries for the Blind. "I go way back with Sam, so when I started playing, Sam was the only one my dad would trust to let me go play." Zac recalls one particular night he sat in with Sam in Yazoo City. "It was time for me to take a solo, and man, I went with the best Jimi Hendrix I knew. That guitar was wailing its strings, and Sam stopped the song and said, 'Boy, that ain't blues. That ain't blues! Turn it down!!' I was embarrassed, but that was Sam. That was Sam."
Zac's dad told his son that if he wanted a career in music, he'd have to go to New York or Los Angeles "because that is where the music industry is."
"I went to California to be a blues artist. So I was gonna get me a deal with Sony Records or one of those big record labels, and I was gonna be the next B. B. King, but the first year there I got cold reality slapped in my face, and the reality was, 'Yeah, you're good, but you know what? Blues is not big enough for us. That's not what we do. We do popular music.' That is, whatever popular music was of that time.
" I just got door after door closed in my face, but one thing that they all said was, 'You know, you're good, though. We really like you,' and what they liked more than anything was my feel as a musician because I was coming from the root. I was a blues/gospel player.
"So that's what they liked, that feel. So even though they closed the door in my face, different people would always ask, 'Hey, can you play on my record? Can you do this session for me?' And because I didn't know anything about the business, I didn't know how to charge for it. So I ended up charging them very little money 'cause I didn't know my worth, but it worked in my favor because it just got me more work because I was good and cheap."
As a songwriter and producer, Zac got to work on some major films, TV shows, and commercials. He wrote songs for Evelyn "Champagne" King, Freddie Jackson, The Whispers, K-Ci & Jo Jo, and The O'Jays. He even did a stint for Michael Jackson's publishing company as a staff writer and in1994 received a Grammy nomination for producing songs for reggae band Black Uhuru. As a session musician he was booked out two years in advance. None of it was blues, but the call of the Delta remained strong.
"I never left the blues. I found this club in L.A. called Dave and Ricky's Inn. For everybody who had gone to L.A. playing blues that was the spot. I would do recording sessions, man, and at the end of the night I was always going down to Dave and Ricky's Inn, and that's where I would sit in. That was my home, Dave & Ricky's Inn, and that was my connection with the blues.
"That kept me grounded, but I wasn't making money. I was only making money playing other forms of music. As a matter of fact, one of the running jokes was my production partner told me one night. We were doing a very important session, and I was rushing. 'Man, I gotta go. I gotta go.' He said, 'You're making $500 an hour here, and you're rushing to go down there for free?' And I said to him, 'Well, that's what I do for free. For this stuff, you guys gotta pay me, but for the blues, that's my heart. That's what I'm doing for me. And so that's what kept me connected to the blues.'"
The International Blues Challenge brought Zac Harmon back home and into the blues full time with festival gigs and recordings. I saw him in 2009 at the Great Atlantic Blues Festival in Maine and wrote in BluesWax: "Harmon's stage show is like a blues symphony where he segues from one song to the next without a moment's hesitation, building a head of steam that is orgasmic. Mixing classic boogie gliders with originals, he builds a West Side guitar sound that's almost as sweet and simultaneously rough as classic Magic Sam into a showcase presentation that takes a lot of pages from Buddy Guy as far as dynamics. His hour on stage went by in an instant."
During a Zac Harmon set I almost forget to breathe. His show is a roller coaster ride. Turns out it's that home town influence at work again. "That's in the Mississippi tradition. I'll tell you where that comes from because when I was young playing with all those guys in Mississippi, the thing about those juke joints, man, you're only gonna take maybe one break, but your sets are gonna be long. Your sets are gonna be sometimes two hours, and because people are drinking, the club owner's gonna tell you you can't let 'em sit down. You gotta keep going. The only thing they're gonna sit down for is to get another drink. You gotta keep it going, keep it going. When you stop, you lose people. And that's how I came up. Michael Burks and I used to joke about that all the time because people will tell ya, 'You and Michael played long sets and all that stuff.' But we just laughed. That's all we know.'
Sirius/XM is playing "I'm Bad Like Jesse James" off Zac's fifth album Right Man, Right Now, his first for Blind Pig, released August 15th. The song is one of the few John Lee Hooker covers I like better than the original. (The other is J. Geils' version of "Serves You Right to Suffer" with J,'s stuttering guitar intro.) Like many of the cuts on this release it was done in one take and uses Zac's scratch vocal with him improvising and vamping on his anger over a guest in his house whose birddogging his woman. At one point Zac protests this interloper's shirtless presence, proclaiming "There's only one Tarzan in this home." Turns out it was a line his dad used on him when Zac's mom bragged about her son's six pack physique as a teenager. Again, Zac is taking it all back home.
"'Jesse James' is a demo vocal. That's the vocals I was doing when we were cutting the rhythm track. This is truly old school. I was prepared to come back and do the real vocal, and I remember getting a call from B. R. Millon, and he says, 'Hey, dude. I don't think we should mess with this."
The CD is co-produced by Christopher Troy and B. R. Millon whose credits include L.A. hip hop artist Ice Cube and production credits on Zac's last two CDs, From The Root and Music Is Medicine. Guests include Bobby Rush, Lucky Peterson, Anson Funderburgh, and Mike Finnegan. John Hahn who is winning high praise for his work as songwriter on Shemekia Copeland's new CD Outskirts of Love is second co-writer here, too, on "Stand Your Ground," "Right Man Right Now," "Long Live The Blues," and "Back of The Yards."
"John Hahn carefully guided me through that record," says Harmon. "The first thing we did was take me out of it as a producer so I could concentrate on being the best artist I could be. John went through the whole writing process with me to make sure we had the right songs, and the right style. I've never had this kind of focus in my career. I've never had a record label like this. I never had a manager like this.
"Blues continues to evolve," says Harmon .There's a wa-wa peddle on "Ball and Chain" that's a little unusual for hardcore Mississippi blues. "It's just an expression of me where I am with blues. There are those who don't appreciate evolution, but you can't stop the evolution. My dad grew up as a sharecropper. He picked cotton. I never picked cotton. I saw a lot of cotton, but I never picked cotton. So I didn't have that point of reference in my music. So my music doesn't reflect that whereas my dad loved Slim Harpo, and he loved McKinley Morganfield. He never called him Muddy Waters. He called him McKinley Morganfield, and the reason he called him that was because that's what he knew him as. That's what he came to Yazoo City as, McKinley Morganfield, just him and guitar."
Zac Harmon is coming home, home to Jackson, Mississippi, and home to King Biscuit. "Here's my mission: to bring the blues – the moniker of the blues – back to Mississippi because I think that Mississippi has gotten the short end of the stick when it comes to the spoils of the blues. Everywhere I've been over in Europe, the first thing they say is, 'What about Chicago blues?' And I always have to tell them, 'Look, I never lived in Chicago, don't know much about Chicago, but I will tell you this. Most of the guys you hold in high esteem that you call Chicago blues were all from Mississippi.' So right now, we have such a renaissance of blues coming from Mississippi led by Bobby Rush. I just want everybody to know that Zac Harmon, Vasti Jackson, Jarekus Singleton, Mr. Sipp, Eddie Cotton, this is not a fluke."
Join American Blues Scene's own Editor Matt Marshall, myself, King Biscuit's Godfather Bubba Sullivan, Reba Russell, and Zak Harmon on Saturday, October 10 at noon for the Call and Response Blues Seminar, at the Malco Theatre, on Cherry Street in downtown Helena, Arkansas. Roger Stolle, filmmaker, columnist, oft quoted authority on Delta blues and owner of Cat Head Delta Blues & Folk Art in historic Clarksdale, Mississippi, hosts part two of the symposium at 1:15 p.m. with four of the most colorful southern juke joint owners: Red Paden of Red's Lounge in Clarksdale, Willie "Po' Monkey" Seaberry whose juke is in Merigold, Mississippi; Henry "Gip" Gipson of Gip's Place in Bessemer, Alabama; and Teddy Johnson of Teddy's Juke Joint in Zachary, Louisiana.