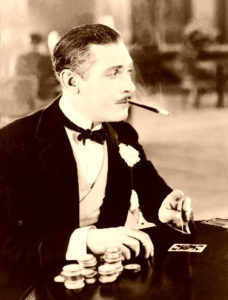 This is the latest installment of our weekly series The Language of the Blues, in which author and rock musician Debra Devi explores the meaning of a word or phrase found in the blues.
Grab a signed copy of Devi's entertaining & award-winning glossary The Language of the Blues: From Alcorub to Zuzu (Foreword by Dr. John) at Bluescentric.com. Also available as an eBook.
A rounder is a professional gambler who travels around looking for high-stakes poker games. A rounder takes big risks for big money…and sometimes loses big.
Gambling poker games weren't allowed in the United States until the 1970s, so many legendary poker players honed their skills as rounders. Noted rounders include Doyle Brunson (winner of the first million-dollar poker tournament), Amarillo Slim and Sailor Roberts.
When a rounder is in town, hold onto your money extra tight, as Arthur "Blind" Blake warned in "Hookworm Blues":
Hookworm in your body, food don't do you no good
Same way with a rounder, come in a nice neighborhood
Blind Blake was a very accomplished guitarist. You can really hear his distinct ragtime style of guitar playing on "Hookworm Blues"!
Pick up a signed copy of The Language of the Blues today!
Songs
:
"Bukka's Jitterbug Swing"- Bukka White (Booker T. Washington White)
"Hookworm Blues"- Blind Blake (Arthur Blake)
Video:
Blind Blake – "Hookworm Blues"