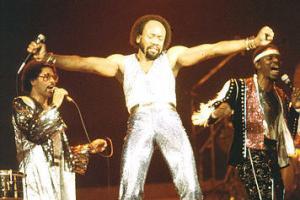 Earth, Wind & Fire co-founder Maurice White died at his home in Los Angeles on Wednesday. White was 74 years old and had been courageously battling Parkinson's disease for over 20 years.
White founded the group in 1969 with his brother Verdine, and since that time they have gone on to sell over 100 million records. What has made EW&F so enduring is their pioneering sound, blending elements of jazz, funk, R&B, and rock together, seamlessly. In 1995 White stated publicly that he would no longer be performing or touring with the group, although he continued to write and produce.
Thus far EW&F have earned twenty Grammy Award nominations, winning six, with Maurice White and Philip Bailey each winning an individual Grammy Award as well. In 2000 the group was inducted into the Rock and Roll Hall of Fame, and in 2011 they received the Soul Train Music Legend Award.
White had once told Newsweek "We live in a negative society. Most people can't see beauty and love. I see our music as medicine." In a 2000 Associated Press interview, White had expressed his desire that the band's music should inspire people. "That was the whole objective, to try to inspire young people to believe in themselves and to follow through on their ideas," he said. "We've touched so many people with these songs."
Scheduled for release by Amistad on Sept. 13th, White's memoir, "Keep Your Head to the Sky: My Life with Earth, Wind & Fire" includes a forward by Steve Harvey and an afterword by David Foster.
Earth, Wind & Fire will be honored at the Grammy Awards on Feb. 15 with a lifetime achievement award.