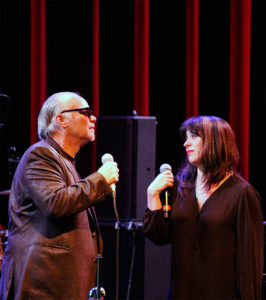 Sometimes, big things come in little packages. Take for instance the Tampa Bay Blues Festival, held every year in St.  Petersburg, Florida. One of the premiere music festivals in the world, the event attracts the best performers that music can offer up, not to mention thousands of fans who attend the three-day festival. Every year, on Friday and Saturday evenings after the festival's last note rings through Vinoy Park, the Palladium Theater on Fifth Avenue North kicks off the after shows that have become the stuff of legend. It is here that select artists from that day's festival will perform what often turns out to be looser, more intimate, but no less intense sets for an audience of about 850.
This year, we were fortunate to attend the Saturday evening show. Danielle Nicole started the party. She brought her powerful, expressive vocals and a band that can run as strong at an idle as it can in fourth gear. She purred, much as Eartha Kitt had done years ago, and she also reached deep, deep down inside to channel vocals that would have had Janis Joplin in awe. Highlights of this set included "How You Gonna Do Me Like That," and "Take It All." Nicole performed "Going to California" and "Baby Eyes" solo, accompanying herself on acoustic guitar. She and the band also performed the most rocking version of Son House's famed "Death Letter" ever, with the exception of the original, naturally. A truly momentous set.
Up next was Curtis Salgado. He brought his versatile vocals, and an exceptional band with him. Together, they stirred up this crowd once again, which considering the drained and exhausted state Danielle Nicole had left them in, was no easy task. Salgado began by performing some old school Chicago blues with only himself on vocals and harp, and his talented guitarist, Alan Hager. This brief but expressive set included "Baby Please Don't Go," a tad bit of mixed Son House, "Deep Bone Blues," and more. The whole band joined in and their set included a breathtaking rendition of "Too Loose." When we watch Salgado perform, it is easy to see how he has beaten back cancer three times since 2006. The drive, the dedication to craft, the fierce honesty he brings to his art is incredible. He doesn't settle, nor will he give anything less than everything, ever. He's just not built that way, and it comes through vividly in his music. Appropriately, he called Danielle Nicole back out, and together they delivered a potent presentation of the duet "Is There Something I Should Know," from his new album The Beautiful Low Down.
The Cash Box Kings found themselves in the unenviable position of following both Danielle Nicole and Curtis Salgado. Masters of old school Chicago blues and swing, they led off with instrumentals straight form mid-to-late fifties Chicago, complete with superb guitar lines courtesy of Joel Paterson. This portion of their set included their hit, "Gimme Some of That." Singer Oscar Wilson joined the band and they found their stride, jamming classics like "Blow Wind Blow," and "Country Boy" among others.
Each artist succeeded in bringing their vision of blues, and sharing that vision with an enthusiastic, grateful audience. Experiencing these presentations in this setting gave the music an urgency and passion that visibly moved everyone. We can't wait for next year.