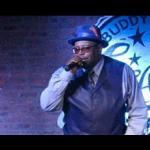 Milwaukee, WI – Tweed Funk have announced that front man Joseph "Smokey" Holman has been hospitalized and had emergency surgery due to an infection. His immune system, weakened by chemotherapy, was unable to fight off a tooth infection. He is now recovering in the Intensive Care Unit.
Tweed Funk will still be holding their CD Release Party at Anodyne Coffee (224 W. Bruce Street) on Friday, April 29th at 8 pm (doors at 7 pm). A portion of the proceeds raised will go to help Smokey out in his recovery and medical bills. The band will perform songs from their new album for a set with Eric Madunic (bass) fronting the band and the backing vocals of Chrissy Dzioba and Sara Moilanen of The Whiskeybelles. Additionally, the band will have a set focused as a listening party for the new CD along with music videos and live videos of the band. Our thoughts and prayers are with Smokey and we are hoping that the power of music can heal.
About Tweed Funk
Formed in late 2010, Tweed Funk's national ascent has been driven by their horn-fueled, Memphis flavored blues, roots, and soul. This Milwaukee, Wisconsin 6 piece soul-blues revue is fronted by Joseph "Smokey" Holman, who recorded under Curtis Mayfield in the early 70's. Tweed Funk boasts 5 Wisconsin Area Music Industry (WAMI) Wins in the last 4 years for the band and its members.
On April 29, 2016 Tweed Funk will release their 4th album, Come Together, which consists of 10 new original songs. The band made a concerted effort with the new album to focus on writing quality songs as opposed to writing to a formula. Additionally, Tweed Funk wanted to take advantage of their revised line-up and work more collaboratively in the songwriting process. Special guest Doug Woolverton (trumpet) of Roomful of Blues appears on the entire album along with special guests Chrissy Dzioba and Sara Moilanen of The Whiskeybelles who lend their backing vocals to 5 of the new songs.