This is the latest installment of our series The Language of the Blues, in which author and rock musician Debra Devi explores the meaning of a word or phrase found in the blues.
Grab a signed copy of Devi's entertaining, award-winning glossary The Language of the Blues: From Alcorub to Zuzu (Foreword by Dr. John) at Bluescentric.com. Also available as an eBook.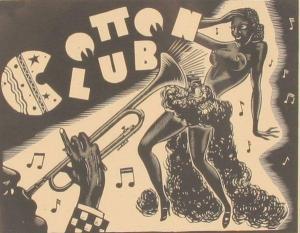 The shimmy was a popular dance in Harlem's Cotton Club in the 1920s. To dance the shimmy, women wiggled their shoulders back and forth to get their breasts moving from side to side. Eventually, the entire body would shimmy and shake! The dance was considered by many to be obscene and was frequently banned from white dance halls during the 1920s
One theory is that the shimmy was named after the silky chemises that roaring-'20s ladies liked to wear when going out to nightclubs. The shimmy was performed in Southern juke joints as early as the mid-to-late 1800s, however. By 1908, sheet music existed for a dance called the "shimmy sha-wobble". In 1909, Perry Bradford wrote "The Bullfrog Hop," a song that included the shimmy in lyrics about African American dances of the day. According to Dance History Archives, West African slaves likely brought over a Yoruba dance called the shika that involved shaking the shoulders.
Like other African American dances (see balling the jack), the shimmy entered white American culture once it was featured in the Ziegfeld Follies. A flapper named Gilda Gray was a huge hit with her hyperactive shimmy, which she claimed to have invented to calm her nerves when she forgot the words to "The Star Spangled Banner" during a performance.
Although the shimmy was already popular in the black community by then, Gilda's version was so scandalous to a mainstream audience (she always managed to shake her silk chemise right off her shoulders) that she caused a sensation when she appeared in the 1922 Ziegfield Follies.
This pissed off Mae West to no end, who claimed she had created the shimmy sha wobble for her burlesque act as the "Baby Vamp" in 1905, when West was twelve years old–long before Gilda Gray had anything to shake.
Pick up a signed copy of The Language of the Blues today!
Songs
:
"Gimme a Pigfoot and a Bottle of Beer"- Bessie Smith
"Kind Mama"- Blind Willie McTell (Willie McTear)
"Flamin' Mamie"- Willie Dixon
Video:
The Shimmy – "A Dance So Naughty It Had to Be Banned"