This is the latest installment of our weekly series The Language of the Blues, in which author and rock musician Debra Devi explores the meaning of a word or phrase found in the blues.
Grab a signed copy of Devi's entertaining & award-winning glossary The Language of the Blues: From Alcorub to Zuzu (Foreword by Dr. John) at Bluescentric.com. Also available as an eBook.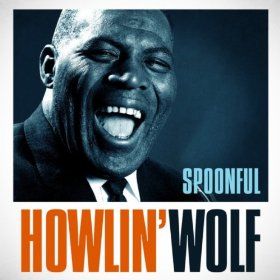 In 1960, Willie Dixon wrote the powerful tune "Spoonful" for his friend and fellow Chess Records artist Chester Burnett, a.k.a. Howlin' Wolf. Wolf lent his earthshaking roar to many songs that Dixon wrote expressly for him, including "Little Red Rooster," "Back Door Man" and "I Ain't Superstitious."
According to Wolf's guitarist Hubert Sumlin, Wolf would inspire Dixon by telling him stories or talking about certain ideas that Wolf thought were important. Although, as Sumlin noted, Wolf "couldn't read or write in the beginning, he had motherwit. God gave him something he didn't give to a lot of people."
Wolf was an intimidating physical presence–six feet five inches and powerfully built–but according to Sumlin he was an exceptionally kind and gentle person, with a philosophical bent.
Generosity was one concept that Wolf returned to over and over, Sumlin recalled. "A spoonful was a thing Wolf had been talking about from way back," Sumlin explained. "He grew up in a very stricted [sic] family where people used to come over and borrow food…a spoonful of this, spoonful of that. He got to thinking about it–a spoonful of this, spoonful of that, spoonful of this. Like he sings, 'It could be a spoonful of coffee, it could be a spoonful of tea.' And he put love in there!"
Some blues scholars, as well as other artists who have covered "Spoonful," have interpreted the song as being about drug addiction, because heroin users heat dope in spoons to liquefy it for injection.
Sumlin disagreed with that interpretation, telling me, "No, it's not about drugs. Well, they can take it that way. It can be the same thing, but he meant [being kind to] people coming over and borrowing things. Wolf believed in giving not just a half-inch, but the whole inch. He believed in giving everything you have."
The word "spoonful" appears in several other important blues songs. Charlie Patton's "Spoonful Blues" is unambiguously about drug addiction. Patton sang that he would kill a man, go to jail or leave town to find the spoonful that he needed.
In "Coffee Blues," Mississippi John Hurt describes his need to see his girlfriend about "a lovin' spoonful, my lovin' spoonful." The 1960s pop group The Lovin' Spoonful took its name from this metaphor for ejaculate.
Songs:
"Coffee Blues"- "Mississippi" John Hurt (John Smith Hurt)
"Spoonful"- Willie Dixon
"Spoonful Blues"- Charlie Patton
Pick up a signed copy of The Language of the Blues today!
Songs:
Video:
Howlin' Wolf – "Spoonful"