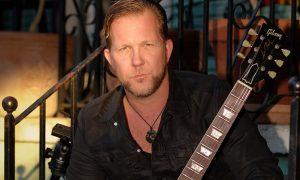 Some would say that being born the son of rock royalty is a blessing, paving the way to an easier path through the world. For Devon Allman, son of Gregg Allman, it was an opportunity to make his own way through the world, and on his own terms as well. At 44 years old, he is enjoying the fruits and triumphs of his efforts. In 1999, Allman founded Honeytribe, his first overtly successful band. In late 2011, he joined the group Royal Southern Brotherhood with Mike Zito, whom he had befriended and worked with at Guitar Center. RSB issued their eponymous debut album to great success and critical acclaim. This was followed by a successful world tour.
As a solo artist, he issued the Turquoise album in 2013, and Ragged & Dirty in 2014. His latest album, Ride or Die, on Ruf Records, drops on September 16th. Co-produced with Grammy Award winning producer Tom Hambridge, Ride or Die contains 12 decidedly lush, beguiling tracks that Allman is quite proud of.
American Blues Scene spoke with Allman about his younger days working a multitude of different jobs, his decision to step away from Royal Southern Brotherhood, his new album, and making his own way.
Barry Kerzner for American Blues Scene:
The Grateful Dead song, "What a Long Strange Trip Its Been" surely suits your musical journey.
Devon Allman:
I think that every step of the journey has been kind of led into the next, and I think that every step has been essential to, just my growth, as an artist. I'm just really grateful to look back every year and see growth on the music side, on the business side, on the fan based side. I definitely have really dug having the ability to kind of go in and out of projects, and keep it fresh. From Honeytribe, to RSB, to the solo band. You know, I always want to approach it that way. I never want to get stale.
When you left Royal Southern Brotherhood, everyone was freaked out, like, "Oh my God, he's leaving. What's he gonna do now?"
That was the hardest decision I ever had to make, in my career. I really loved all those cats, and I still do; I mean, there's no bad blood or nothing. I was spinning too many plates man, you know? I'd come off the road with Royal [Southern Brotherhood] and have ten days off, and then I'd want to play my music, so I'd get my guys together and go do five dates. Then I'd go back out with Royal for 40 or 50 days, and then I'd come back home to 12 days off. I'd go work and fill half those days with these guys. It just became too much. Something had to go, and I figured I did three records with them, and went around the world several times. You know, it was OK to back away. There's talks of some reunion stuff and I'm certainly open for that when it's the right time, and the right circumstance.
Now that you have moved on and switched gears, what do you enjoy most about painting your own canvas, and what do you enjoy least, if anything?
I do love the freedom and the autonomy. I like singing more than four songs in a night. There's a lot more freedom. It's really what it's all about and I've got, probably nine records out by now. So it's nice to be able to play a song off each record, and just run the show. I really loved being in Royal too, and it was nice to be part of an ensemble and it was an honor and a privilege to play next to Cyril Neville very night. He's extremely inspiring, and taught me a lot just by me standing next to him every night. So, I certainly miss Cyril.
You said in an interview that despite what folks think, that nothing was handed to you and just because you had a famous dad, it wasn't like you just showed up and everything was given to you.
No! Yeah, that's by design. I mean, every single industry connection that I've made over the last decade and a half, whether it's an agent, or a record label, management, publicists; all of those were cultivated organically. None of them were hand-me-downs; none of them were tips. I never wanted that kind of approach. I really wanted to do everything on my own.

I wanted to build and grow the band on my own. We're not in the situation of a Clapton or a John Mayer by any means, but I'm certainly a lot better off than I was ten years ago. I think whenever you sit at home, there's other cats turning people on. I don't like the thought of that.
You certainly worked a variety of jobs before you made music your mainstay. You worked in a steel factory, you worked in record stores, you were a manager at Guitar Center, you sold furniture, and you even sold insurance.
I did absolutely. i was licensed State of Missouri and Illinois to sell health and life insurance. I did really well at it. You can make quite a bit of money in that racket. It wasn't me – it was soul-sucking. I wasn't creating – I was providing, but I wasn't creating. There was also three years in a sweat shop like style T-shirt place that was fun but was excruciatingly hot. The steel factory was probably the crappiest one of the lot. I sold furniture.

I really think that all those experiences kind of shaped me for what I eventually am blessed to go and do. I really think that you're kind of a sum of all the parts of where you've been in the process. I don't take any of it back, certainly.
Are you still craving home and stability when you were out on the road, doing your "crazy thing," as you put it? Is that still the case, or has that eased a little?
I don't know. I think that I have hit a pretty good balance. My son is older, he's in high school, he's driving, so he's kind of off and running. that does make it a little easier for me, but at the same time, it's just kind of the whole 'transient' like, insane, non-stop, shuffling around. It gets tiring. Then you miss the simple things. Like, I miss really simple shit, like cooking my own meals, driving my own car, or playing vinyl in my living room. Going down to the pub with my friends… I think I've come to appreciate more now that I'm away from it all the time.

But as far it wearing on me, I try and keep it in check. I think I'm a little better at it. I'm single right now, and that certainly helps matters, a lot. There's no woman sitting there tapping her foot, waiting for you to walk through the door.
In regard to playing your guitar and practicing, you've said "I like having a fresh new approach every time I pick it up. It's not that I don't have a total love affair with the guitar, but I just find if I go over things and over things and over things, what does that really do?" Has that changed at all for you?
Yeah, to a degree. I mean, I do like having a fresh approach. I don't sit around and run scales. I will warm my fingers up and play for five or ten minutes before a show. Otherwise, it's always fun. The lights go down and it's time to see where those notes will take you.
It is a unique perspective.
It freaks a lot of people out. It's like, hey, I did that when I was younger, and now I play tow hundred and something nights a year.
So, you are certainly spending a lot of time on a fretboard.
Oh my God! Hell yeah. You know, obviously, after a get home after I fall out, for a bit, there's dozens of guitars at the crib and I'm always grabbing one and jotting down an idea, into a phone or whatever. So, there's certainly some playing going on. Plus, I sit in with friends, quite often when I'm home.
Hambridge co-produced Ride or Die with you. He brings a lot to a session when he produces as far as setting up mikes and blocking, recording, etc. Was he a big help to you?
Well, he produced Ragged and Dirty, and he was going to produce this one and I called him at the eleventh hour and I was like, 'Hey bro. This record is really personal, I've arranged all these songs in a meticulous way of what I want. I really have an idea for the textures and the overall shape of this record, and I really want to produce it. However, I don't want you to not be in the equation. Would you still drum on it, and would you still co-produce it?' He said yes. This is the first album that he has ever co-produced, which I'm really proud to say that that's my record. That means a lot to me. He has been asked to co-produce by a handful of large name artists; he's turned them all down. We have a really special connection. We were like instant bros. I really glad he came along for the ride on this record. He certainly helped.

I've been producing now for ten years and I haven't gotten a chance to do it a bunch, and I'm still learning. I had produced the number one blues artists in Australia, Owen Campbell. I produced his latest record, and I really came off the heels of that with a newfound confidence, like, 'I can do this shit.' Like straight up.
The album is well mixed and well recorded. Well produced and not all 'glitzed up.'
Yeah! You want there to be texture and depth, and you want there to be some ear candy, but it's got to be the right placement. You don't want to overdo it, or do it for the sake of doing it.
Let's talk about a couple of the songs real quick. "Say Your Prayers" has an old school 70s hard edge, and a great vocal too!
Half the record was co-written by a guy named Tyler Stokes. Tyler Stokes is an up-and-coming blues rock musician, 24 years old, from St. Louis. He came in and really saved the record. I had written three – four tunes for the album, and then I went through a break-up; so I went through a bunch of personal stuff. I wrote a couple of breakup songs, and then I hit a wall. I hit like, a writer's block. There I was and had to make the record in a week! I had six tunes.

I was freaking out, so I called Tyler. I was like, 'Look dude, come camp out at the house, we'll sit out on the porch, I'm gonna drink twenty cups of coffee. We'll get two legal pads out and two acoustics, and let's just see. He ended up co-writing half the record. So, "Say Your Prayers," "Find Ourselves," "Galaxies," "Watch What You Say," and one more; we wrote those in forty eight hours at my house. Under the gun of knowing we had to go to Nashville and do a big studio, and make a record.

I've always liked working under pressure. On the Royal Southern Brotherhood record I wrote "Left My Heart in Memphis" while we were at the studio. Yeah, he made the record. So, I'm very grateful. "Say Your Prayers" was actually formed out of a beat he had in his head. He was like, this'll be a really cool beat to throw a lick over, and we started playing with licks, and the song kind of wrote itself.
"Find Ourselves" kind of had a little Stax vibe to it.
Yeah. I'm a huge fan of all that throwback R&B, like Curtis Mayfield, so it was cool to write a song that was a nod to that.
"Lost" has that great acoustic guitar with the Wah playing over it…
That's not a Wah. It's a talk-box. It's what Frampton used. It's that clear tube that goes up on the microphone. It's like a little amp in and of itself. I had never heard a talk-box used in that kind of capacity. I had never really heard it used on a ballad or a cowboy song.  I had heard it on big arena rock songs. When we [Tyler Stokes and Allman] wrote lost… In fact, when we were sitting at my kitchen table recording it into my iPhone, when the vocal break would come up, I would just mouth that part. That was gonna be that talk-box, and I had never used one in my life. We got to Nashville and the runner went out and bought a talk-box for us. I did kind of a quick 20 minute mess around to kind of get a feel for it, and then dove right in and cut the track. I think it really fits in; I think it's really haunting.
Do you have upcoming projects besides your tour?
I do but I'm very ambiguous about it, because, number one, it's more fun. Number two, because you never want to jinx anything. I think people can always expect for me to do something different.
Is there anyone that you haven't collaborated with, that you would like to work with now, or in the future?
There has been talks of collaborations with Robert Randolph, Duane Betts, and I'm certainly interested and open to all of those, but as you know, we're all busy. So, galaxies have to collide in the right manner for those things to happen. I think in some capacity they will, eventually. Whether it's a jam, or an EP, or a single, or something for charity, we'll make it happen. We're all brothers in spirit.
You had remarked about playing a theater in Conn with Dickey Betts and his band. You spoke about how he would bring you out to play with them, and you brought them out to play with you. You said that "cross pollination is always good. It doesn't matter if you are famous or not; it's all about sharing."
Totally. I totally agree. I have been blessed to jam with a lot of cool bros. Also important, and I do quite often, I'll have people sit in. Maybe it's a guy from the opening band, or maybe it's a girl singer in town that's really incredible, and we'll do a duet of the "Stop Dragging My Heart Around" cover with me.

We often times have youngsters come up; kids that are anywhere from ten to fifteen that just kill it. I definitely try and make stage time for them. I think that it's important to give them, I don't know, a platform, for people to discover them, and also instill in them the confidence to do this for a career. I'm glad to facilitate that. A couple of them are doing really great things now. One of them that I can think of off the top of my head is Taz (Brandon "Taz" Niederauer), who is now in a Broadway rendition of 'School of Rock.' Pat Harrington, who's like, a high school kid in Buffalo. Now he is touring the world with Victor Wainwright. So, it's really cool to kind of crack the door open for these guys.