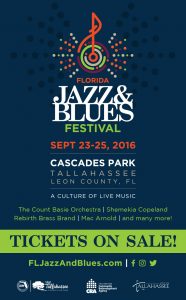 This Friday, history will be made as the first day of the inaugural Florida Jazz and Blues Festival kicks off at Cascades Park in Tallahassee, Florida. The festival's Artistic Director Scotty Barnhart, is the current director of the Count Basie Orchestra, founded in 1935. Barnhart obviously brings a wealth of knowledge and sensibility to this undertaking.
As the festival's website states, "The Florida Jazz and Blues Festival is planting a seed with this inaugural festival that will bear fruit for our community for many years to come. We are building a framework through global contacts that will allow our children's children to enjoy the foresight and action that we are engaged in today. This festival will become an annual event that attracts world-renowned performers, as well as jazz and blues music lovers from across the region and country."
Florida has a rich history in the blues and jazz, and Tallahassee in particular was so instrumental in the careers of blues singer, composer, and pianist Ray Charles, sax legend Cannonball Adderley, and trumpet giant Nat Adderley.
Of course, artists performing are from all over the state; Selwyn Birchwood hails from Orlando, and currently lives in Tampa, Florida. Heather Gillis hails from Tampa Florida, and she is currently attending Florida State University and leads her band, based out of Tallahassee, Florida. There are also artists from all over the country, bringing their unique sounds for Florida fans to enjoy.
A good portion of the music will be performed acoustically. When amplified, the music will be presented in such a way that the synchronicity of the instruments is not diminished. Along with the performances, the festival also affords educational presentations that allow this music to be introduced to a whole new generation of up and coming fans.
Be part of this unique celebration!
FESTIVAL LINEUP:
Friday, Sept 23 Ticketed Event 6pm-11pm
FSU/FAMU Jazz Artists
Charles Atkins and The P&W Trio
Mr. Sipp "The Mississippi Blues Child"
Son d' Aqui
Johnnie Marshall Blues Band
Saturday, Sept 24 12:30 pm – 11pm
FREE TO THE PUBLIC – 12:30pm-4pm
Heather Gillis Band
Cleveland Eaton Trio
Brian Lynch Latin Jazz
Ticketed Event – 5pm-11pm
Mac Arnold & Plate Full O' Blues
Marcus Roberts and The Modern Jazz Generation
Shemekia Copeland
Freddy Cole Quartet
The Count Basie Orchestra
Sunday, Sept. 25, 12:30pm-9:30pm
FREE TO THE PUBLIC – 12:30pm-4pm
FSU Jazz Orchestra
Lady Bianca
Leon Anderson Quartet with Avis Berry
Ticketed Event – 5pm-9:30pm
Brett Wellman & The Stone Cold Blues Band
Greg Osby Quartet
Selwyn Birchwood
Rebirth Brass Band
Florida Jazz and Blues Festival
Cascades Park, Tallahassee, Florida
Friday, September 23rd – Sunday, September 25th