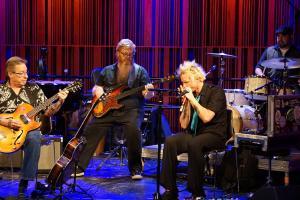 It's not necessarily where you go to New Orleans to find blues music; it's more about who to look for. Deemed the birthplace of jazz, New Orleans is clearly dominated by jazz musicians. Even the blues clubs project the genre more often than not, and blues infused jazz listening is commonplace. If you're seeking out pure blues in New Orleans, these venues and performers are the most likely to offer up some blues in the raw sense of the genre. However, jazz rules the day in the big easy, and checking the upcoming performance line-ups can make a huge difference in the experience. Indeed, in New Orleans, there's plenty of blues to be had throughout the city.
Music at the Mint is a designated National Park and State Museum. It contains and continues to archive the entire musical history of Louisiana. Blues, Cajun, classical, contemporary jazz, rhythm and blues, rock, soul, and zydeco are all featured. The 3rd-floor performing arts center showcases a newly completed 4-million-dollar music and filming venue that seats just 100 people and was five years in making. A tour of this venue will certainly impress, but to catch a performance here is truly special.
Tipitina's was founded in 1977 as a venue for "Fess" aka "Professor Longhair" to spend his remaining years playing and hanging out. A melding of blues, R&B, boogie-woogie, and rumba, ultimately gave the New Orleans native his original flavor and propelling him to become one of the most influential musicians in Louisiana History. Named for his 1953 Atlantic Records hit, Tipitina, the iconic music venue has been graced with the likes of Stevie Ray Vaughn, Buddy Guy, Bonnie Raitt, Robert Cray, Nine Inch Nails, and many others. The history within its walls alone makes it worth a visit.
Maple Leaf Bar is an uptown venue well known for blues within the local musician community. It's in a class similar to Tipitina's. George Porter Jr. who played with Art Neville in the R & B band "The Meters," has been a regular here since 1985. This is where you are most likely to find his performance as well as the soulful, funky blues of Cyril Neville, who was an original member of the Meters. In the early '70s, the Rolling Stones recruited the Meters to back them up on their world tour with Cyril as the singer. The storied venue has live performances seven nights a week and has had its doors open since 1974.
Chickie-Wah-Wah is a midtown music show house with performances occurring almost nightly. It also has mixed genre's and is considered among the ranks as Maple Leaf Bar and Tipitina's. All artists performing here are paid strictly from the cover at the door, and each artist sets their price. Charlie Wooten Project, Austin de Lone of the '70s rock band "Eggs over Easy," and blues singer and guitarist Michael Pierce perform here frequently. This venue is easy to get to by cable car from the French Quarter.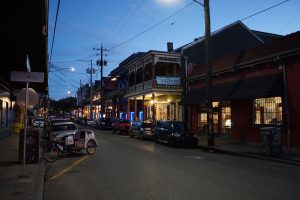 The Frenchmen Street experience – Consider the short two-block stretch of Frenchmen Street a venue unto itself. It's home to at least ten clubs that are worth checking out including Maison, Vaso, Blue Nile, 30/90, 3 Muses, Spotted Cat, Dat Dog, Bamboula's, and Café Negril. Just around the corner is the BMC where Johnny Mastro frequently tears it up with the mama's boys. The area has a great atmosphere, friendly people, awesome food, and plenty of music to enjoy. All the local talent comes here to play, and boredom is virtually non-existent in this excellent little musical neighborhood just a few blocks from Bourbon Street.
When looking for musicians in particular, two great resources to check out who's playing where and when in New Orleans are WORZ and the New Orleans Blues Society. Some musicians of note include:
Ron Hacker –  Given the chance, don't miss Ron's unforgettable slide on his '47 hacksaw acoustic and bluesy rhythms on his 1960 Gibson Es 125. Ron learned his Delta Blues chops from the partner of Sleepy John Estes, blues legend Yank Rachell.  After 35 years in San Francisco, primarily at a music club called the Saloon, he is now doing his thing in New Orleans. Ron did a residency at Music at the Mint last spring while recording his new CD, Goin Down Howlin.
"Don't give it away cheap, if you do, they'll treat you cheap." – Ron Hacker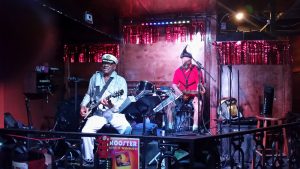 Rooster the Blues Man, is a 79-year-old Mississippi native who has played the New Orleans scene for 35 years. With roots in Mississippi blues, Rooster is a regular at Huge Ass Beers on Bourbon, and he cranked out some nice easy listening blues on the famous street. He has a 5-piece as well as a 7-piece band that he plays with around town.
"Any day above ground is a good day"- Rooster the Blues Man
Johnny Mastro has an ass kicking blues harp style that is solidly in the blues category. Mastro found the blues at a young age, influenced by Sonny Terry and Rice Miller, he fell in love with the harmonica and Hound Dog Taylor tops his favorite musicians. He and the mama's boys will make you hold that trip to the facility until your teeth are floating. Look him up & get some great blues action.
Jason Ricci is a phenomenal blues harp musician and has played with some of the best. He has received numerous blues awards and played with Johnny Winter on his Grammy-winning 2015 cd "step back." He has been featured in Blues access magazine and recently inducted Paul Butterfield into the Hall of Fame. He's one of the best harmonica players in the world. Search diligently for Jason when visiting New Orleans.
Part of the adventure is finding your own golden musical nuggets in this great city. Here's a few others to keep your eyes & ears open for: Little Freddie King, Johnny Sansone, Guitar Slim Jr., Ed Wills, and Walter Wolfman Washington.