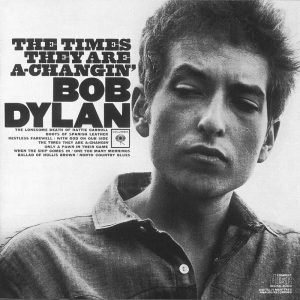 BREAKING – Stockholm, Sweeden
American icon, composer, singer, and poet Bob Dylan has won the 2016 Nobel Prize in literature for "having created new poetic expressions within the great American song tradition." This is the first time that this award has been bestowed upon a musician. The last American to win this award was the brilliant poet Toni Morrison, in 1993.
Although a perennial candidate for the award, it was the general consensus that the academy would not bestow the award upon a musician. Apparently, Dylan has triumphed in this regard. Sara Danius, the academy's permanent secretary, said that while Dylan performs his poetry in the form of songs, that's no different from the ancient Greeks, whose works were often performed to music.
"Bob Dylan writes poetry for the ear," she said. "But it's perfectly fine to read his works as poetry."
It should be a surprise to no one that Dylan has earned this prestigious award. His work defined an entire generation bound up in the in the throes of tumultuous change, earnestly telling their story from the perspective of a participant. While he did not single-highhandedly invent, or revive the folk movement, he did a lot to bring it to the mainstream and make it accessible. In some ways, he became the de facto standard bearer for the change movement.
His early work included songs that became standards and anthems including, "Blowin the Wind," "With God on Our Side," "The Times They Are a-Changin,'" and  "North Country Blues."
Such was the reverence for his work that when he chose to perform electric music as opposed to his usual acoustic set at the 1965 Newport Folk Festival, cries of "Judas" could be heard, shouted from the audience.
Never one to stand still, over the years Dylan has traveled whatever musical territory that interested him at any given point. He has never been tied down to one style of music, having written and performed rock, folk, and even religiously influenced rock. Because of this, his writing has not been bound to a specific approach or manner. Perhaps he, more than anyone, has been aware that times do change, and has never shied away from looking at how that change has shaped our lives as well as his own.
Dylan was born to a Jewish middle class family in Duluth, Minnesota on May 24, 1941. By the early 1960s, he was already making a name for himself, building the foundation of what would become the legend, and later still, the myth that is Bob Dylan. His music has been influenced by a multitude of styles including country, rock, folk, spirituals, gospel, Delta blues, and much more still.
Over the course of a very fruitful career, he has continued to paint vivid, engaging, pointed images of the lives we live with works such as "Meet Me in the Morning," "Shelter from the Storm," "Jokerman," "Don't Fall Apart on Me Tonight," and "When the Night Comes Falling From the Sky."
Dylan's Nobel Prize is perhaps a culmination of sorts to a bountiful cache of accolades and awards he has earned over the years. Among these are 12 Grammy Awards, a Golden Globe and an Academy Award. Numerous other honors include two Honorary Doctorate of Music Degrees (Princeton University, New Jersey, and University of St Andrews, Scotland), and induction into both the Songwriters Hall of Fame and the Nashville Songwriters Hall of Fame. Dylan is also a recipient of the National Medal of Arts Honors, Kennedy Center Honors, and the Presidential Medal of Freedom.  He is an inductee himself, as well as having five songs inducted into the Rock and Roll Hall of Fame, and four albums and two singles inducted into the Grammy Hall of Fame.
Even at 75 he continues to document, and inform the world around him as no other has. May he continue to do so.