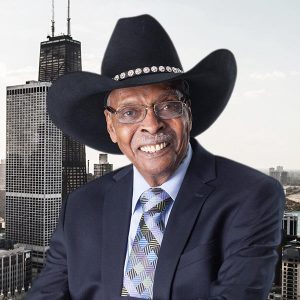 Legend of the airwaves, Chicago's South Side radio DJ Herb Kent passed last Saturday night after hosting his final broadcast that very morning on V103.
Known as the "Cool Gent," Kent had been the voice of several generations of Chicagoans over the course of his career, which spanned about seven decades. Growing up in the Ida B. Wells housing project, Kent couldn't have possibly imagined the how many lives he would influence, nor could he imagine that his efforts would result in such a positive impact in the wards and on the streets of his own city of Chicago.
Ever concerned with the well-being and future of the city's communities and people, he did everything he could to keep them informed and help them get ahead. The say the knowledge is power, and Kent not only informed his neighbors about music, but education, politics, and civil rights as well. Concerned about young people having a good chance to make a future for themselves, between 1962 and 1970 he would specifically spend a quarter hour of his show at WVON-Am on his "Stay in the Schools" campaign. For generations of Chicago's youth, he was an integral part of their growing to adulthood.
"His radio show — the music, his announcements about the community, politics, civil rights, and his admonishments to young people about how to behave — was so much a part of my growing up years in Chicago, that he felt like a Godfather to the African-American community," said Chaz Ebert, widow of Roger Ebert, late film critic and essayist for the Chicago-Sun Times and other outlets.
The "Cool Gent" was also admired by his friends and colleagues for his work ethic, as well as his talent. He is credited with launching the careers of Smokey Robinson, The Temptations, Curtis Mayfield, and others. Even Mayor Rahm Emanuel noted that Kent "gave so much and meant so much to the people of Chicago."
According to Jackie Taylor, the founder and CEO of the Black Ensemble Theater Chicago, Kent was "a brilliant and innovative genius who understood how to communicate to each and every generation that he lived through. His accomplishments were vast — he was more than just a man — he was and will always be a shining star — who taught us how to passionately love and love what we do — to the very end."
Whether assisting local civil rights movement organizations and causes, or delivering Christmas baskets to needy neighbors at churches on the West and South sides of the city, when he wasn't on the air, or DJ'ing at a local venue, Kent was working in the community.
In 1995 Kent told the Sun-Times, "We raised money for bona fide black power agencies. We raised money for Rev. Jesse Jackson's Breadbasket and Operation PUSH. We raised money for H. Rap Brown, Angela Davis, all these people. We were heroes. And people hung on to our every word.'
In 1995, Kent was inducted into the  Museum of Broadcasting's Radio Hall of Fame.
Funeral arrangements have been set for this beloved member of the Chicago family:
Viewing –
Friday, October 28th, from 2 p.m. through 8 p.m.
Robey Park Manor Funeral Home, 2510 Chicago Rd., Chicago Heights
Wake –
Saturday, October 29th, 9 a.m. through 10 a.m.
Followed by Homegoing Service