Huntington Beach, CA – Author Marie B. Trout, PhD, wife and manager of blues rock guitarist extraordinaire,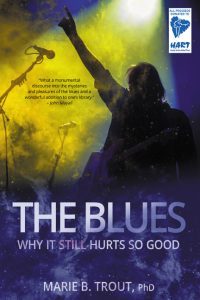 Walter Trout, knows the blues. She has also lived with the blues when her husband narrowly escaped death, and was saved in the 11th hour by a liver transplant. Now, two years after Walter's astounding recovery, her original academic research of blues fans has congealed with professional and personal experience into a book about the role of blues music to modern audiences, its impact, and enduring power.
The Blues – Why it Still Hurts so Good,  is based on a grounded theory research study of blues fans, musicians and industry professionals. The book is scheduled for publication on February 3rd, 2017. To celebrate its release, Marie will appear that same day at a panel on the healing power of the blues (moderated by blues scholar and author Don Wilcock) during the upcoming International Blues Challenge in Memphis.  There will also be a pre-release party on board the Rhythm & Blues Cruise in late January.
All proceeds from the sale of, The Blues – Why it Still Hurts so Good, will benefit the HART Fund, established by The Blues Foundation for blues musicians and their families in financial need due to a broad range of health concerns. The fund provides acute, chronic and preventive medical and dental care as well as funeral and burial expenses.
Advance rave reviews of the new book are already pouring in from musicians and authors:
"What a monumental discourse into the mysteries and pleasures of the blues and a wonderful addition to one's library."- John Mayall, The "Godfather of British Blues," and Blues Hall of Fame inductee
"Incredible research unearthing things I never knew! Totally captivating." – Jim Gaines, multi-Grammy winning producer/engineer for Santana, Stevie Ray Vaughan, John Lee Hooker
"Marie Trout has done something quite unique. Many can write about the business of the blues, but not many can speak personally about the tribulations along the way. Although she may not play or sing blues for a living, there's no question about her personal contact with the blues. I recommend you read this unique perspective." – Joe Louis Walker, Grammy Award winning blues musician, and Blues Hall of Fame inductee
After surveying over a thousand blues fans and interviewing others, as well as industry professionals, and musicians, Trout found that beyond providing musical entertainment to its current audience, the blues acts as a good friend that, "has your back and doesn't let you down." In 2013 and '14, while working on her dissertation, Marie took care of her, then, gravely ill husband, blues rock musician, Walter Trout.
She recalls:
I noticed that my academic research and my inner torment at the time intersected. I lived the blues, while studying the power of blues music to its fans today.
In a gut-wrenching and expensive last-ditch effort, Marie moved 1,600 miles away from their Southern California home, literally carrying her deathly ill soul mate on board the plane in order to improve odds of him getting a life-saving liver transplant. They left two teenage sons behind with a caregiver for six months spent in the hospital in Omaha, Nebraska, fighting for Walter's life.
Marie discovered that emotional pain somehow lessened by blogging about it:
The blues community, our friends and family saved Walter's life and my sanity by offering support, love, and kindness. This community made me feel that I was not alone as I faced constant worry, financial devastation, and endless uncertainty. At my lowest point, fearing ridicule and rejection, I sent my anguish out to the world asking for help in a fundraiser and accompanying blog. That day something changed: when sharing authentically, I was no longer alone in my emotional prison. When others read it, responded, and shared their own stories, I realized that this connection in many ways was similar to what blues fans expressed in my research. They felt connected, and safe to be themselves, when listening to blues music: they felt part of a soul-community.
The notion that human beings bond and find resonance with one another when they hear someone, "tell it like it is," was indeed a primary finding in her studies of blues music fans today. After Walter recovered, Marie decided that this role of blues music to contemporary audiences, along with its transformative musical potential, and many other findings emerging in her research, had not been explored sufficiently in literature.
Today's blues fans, who are primarily white baby boomers, express, en masse, that they are encouraged, strengthened, and yes, find healing, through their love of blues music. The reason being, because it is raw, transparent, honest, and real. They simultaneously express their frustration with a culture that is not. In providing context for these findings, Marie explores what historically readied this generation particularly for blues music and its subtle mood-enhancing, cathartic qualities.
The book further highlights how blues is uniquely powerful at expressing paradoxical emotional realities that are difficult to put into words. Involvement with blues offers respite from a mindset that has left an entire generation as emotional refugees, feeling that they work hard, follow the rules for engagement professionally and privately, and still often "can't get no satisfaction."
She writes:
Blues interaction offers another way of relating in which non-competitive qualities are front and center. Instead of 'nail the test, perform, perfect, pretend' – the message is 'be yourself, be authentic, connect.'
Showing how blues today is still a universal gift from the base of humanity providing antidote to fast-paced, fragmented, and often superficial popular culture is a story that Marie wishes to tell as another way of honoring the legacy of blues originators.
Walter is now completely cured. He is once again touring the US and internationally with his band, and Marie will donate all proceeds from The Blues – Why it Still Hurts so Good, to the HART Fund, serving musicians without health insurance.
In her words:
It is important for Walter and I to give back to the community that literally and figuratively bought stock in Walter's liver. And to help musicians in need of help, is just passing on what we received. I hope many will find that the book gives them a new appreciation for, and understanding of, blues music. And simultaneously that the funds raised will be a blessing to those who are ill and are currently living the blues.