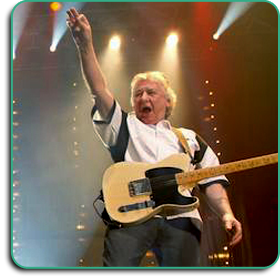 Having returned from a recent run of UK shows, Bad Company announced that 72 year old guitarist Mick Ralphs has suffered a stroke and is now recovering. The band had played a string of eight cities on their Swan Song Tour, their first UK tour in four years. The band lineup consisted of Ralphs on guitar, Paul Rogers on vocals, Simon Kirke on the drum kit, with Howard Leese joining Ralphs on guitar, and Todd Ronning on bass.
A statement reads: "The family and representatives of the band's co-founder, guitarist and songwriter Mick Ralphs are sad to announce that Mick has suffered a stroke. Mick is receiving excellent medical care and is recovering in hospital, although all his public engagements are necessarily on hold, pending his improvement. Everyone is wishing Mick a speedy recovery, and further news will be announced at the appropriate time."
Ralphs had also been part of Mott the Hoople from their early days as the Mod Doc Thomas Group, then Silence, finally settling on Mott the Hoople in 1969. Ralphs left in 1973 and in 1974, he founded Bad Company with vocalist Paul Rogers. He has worked and toured with other artists including David Gilmour of Pink Floyd fame on his About Face tour. In 2011 he formed the Mick Ralphs Blues Band.