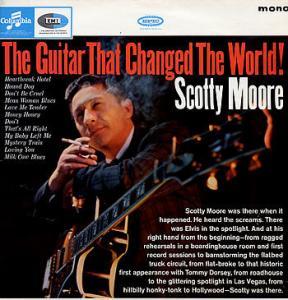 Editor's Note: On December 27th, Scotty Moore would have celebrated his 85th birthday. This week, Throwback Thursday looks back on his career, and we discover why he is revered, and terribly missed.
Scotty Moore was there at the beginning. He was part of the rise of what would come to be known as "Rockabilly," and also, "Rock and Roll." He was a quiet giant among his contemporaries, many of whom went on to become stars in their own right. Bill Haley's guitarist Danny Cedrone had recorded the solo on "Rock Around the Clock," and had died not long after the session that yielded "Shake, Rattle, and Roll." Of course the "King of Rockabilly" was none other than the great Carl Perkins, whose "Blue Suede Shoes" has been a standard of both rockabilly and rock and roll since it's release on January 1, 1956 on Sam Phillips' Sun Records label. Who could forget the incredible work of Cliff Gallup on lead guitar with Gene Vincent and His Blue Caps?
Often forgotten as a guitarist due to his bountiful talents writing and singing hits, Johnny Cash is viewed as one of the pillars of early rockabilly, as well as his position in the pantheons of country and later, rock and roll. Also standing tall in this group of heroes is Roy Orbison, and as with Johnny Cash, he is remembered for his other-worldly vocals, and his playing is often overlooked. These men were giants, and they were building new art forms that in turn, would inspire even more art forms in the musical universe.
These men, who would later be admired by millions, and inspire generation after generation of musicians were dedicated to the craft of their work. Sure, they had fun, but they were not going to play or record any old thing willy-nilly. As we listen to and enjoy these early masterpieces, besides the obvious pleasure we have hearing them, it is immediately apparent the love and quality that pours out from them. There is a reason these recordings are so beloved. There is a reason that even today, learning these songs is considered a rite of passage.
Moore was a member of Elvis Presley's band, The Blue Moon Boys, along with bass player Bill Black, and later, drummer D.J. Fontana. The essence greatness in this early rockabilly and rock and roll music was its raw, gritty, earthy simplicity. It was as though a raw nerve had been exposed.
His single note runs and rhythm playing are still being admired and learned today, as they are the gold standard for playing lines that are unwittingly complex in their simplicity. Like the brilliant lead lines of Charlie Christian, who knew when to slow down, and still, even at speed, his notes were distinct and discernible, Moore could play quick tempo lead lines that were emotive and clearly voiced, while still allowing the music to breathe. At times, Moore was not unlike the proverbial tempest in a teacup, except his roaring tumult was harnessed, controlled and obedient, like the racehorse on the verge of breaking out, completely free and unencumbered.
His innovative and groundbreaking playing appeared on many of Presley standards including Arthur Crudup's "That's All Right," Jerry Leiber & Mike Stoller's "Hound Dog," first recorded by Big Mama Thornton, but made insanely popular by Presley, and the Carl Perkins masterstroke, "Blue Suede Shoes." Then too, there's his haunting guitar lines on "Heartbreak Hotel," made all the more potent by his tone. What about "Jailhouse Rock," another Jerry Leiber & Mike Stoller hit, or Roy Brown's 1947 jump blues  "Good Rockin' Tonight," reworked by Moore and the fellas?
Moore was a humble man, but even so, his ability was recognized by peers, fans, and institutions alike. Rock critic, Dave Marsh, has credited Scotty Moore with the invention of the "power chord" on Presley's "Jailhouse Rock," in 1957. Another fascinating aspect of Moore's work is that he had said he never played a song the same way twice. In 2000, Moore was inducted into the Rock and Roll Hall of Fame, and in 2015, he was inducted into the Memphis Music Hall of Fame. He was ranked 29th in Rolling Stone magazine's list of 100 Greatest Guitarists of All Time in 2011.
Moore has been an influence on the likes of Eric Clapton, Jimmy Page, Brian Setzer, Mark Knopfler, Bruce Springsteen, Alvin Lee, and Keith Richards. Richards has been stumped by a bit of Moore's playing, saying in Rolling Stone magazine and in his bestselling autobiography, Life, that he can't figure out how to play the "stop time" break and figure Moore plays on "I'm Left, You're Right, She's Gone."
It is indeed likely that Moore's influence will not wane, but in fact, will continue to grow with time. This is as it should be. All the great art of the masters who came before us has shaped our thinking and influenced our lives; even those of us that are not artists or musicians. People will continue to listen to music, and each successive generation will discover Elvis Presley, and in turn, Scotty Moore. A knowing smile will spread across their faces as they settle in and enjoy his work.