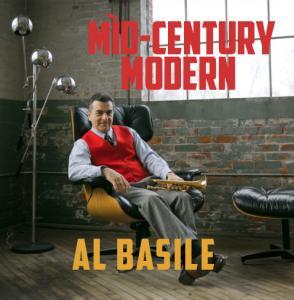 Teacher, poet, singer-songwriter and cornet player, Al Basile is a man of many talents and his latest album Mid-Century Modern harnesses all of those skills into a thirteen track feast for the ears.  Born and raised in Haverhill, Massachusetts, Basile's musical influences derive from blues, jazz and gospel music.  For those who enjoy the sounds of a good horn section or the rollicking New Orleans piano licks this is the album to give a listen to.
Mid-Century Modern is a thirteen track work of art that will have blues fans discussing what their favorite songs on the album are with each other for a long time to come.  "Keep Your Love, Where's My Money," is the first track on the album and opens with some groovy piano licks sporting a Professor Longhair vibe to them which is the perfect accompaniment to a swaying horn section that is second to none.
Fans will not be persuaded to feel blue when listening to "Midnight Blue Persuasion." A song with an attitude, Basile channels the era of the big bands that will make it near impossible for anyone within earshot to sit still throughout the entire song.  For those who are hungry for a lighter sound on the album, "I've Got To Have Meat (With Every Meal) will satisfy any blues fans appetite.
"Listen To The Elders" slows things down a bit and tells the listener how important it is that we keep our ears open when the seniors in our lives have something to say. They have been there and done that and we must all heed their advice when given.
Basile has been wowing fans since the early seventies when he was playing the cornet with Roomful of Blues.  He has also lent his talent to legends such as Ruth brown and Johnny Rawls, just to name a few.  Decades later, Basile is still going strong with his latest release Mid-Century Modern, which has received a 2017 BMA nomination for "Contemporary Blues Album," while Basile himself has been nominated for the "Instrumentalist-Horn" award. Be sure to add this album to your music library soon!
Mid-Century Modern by Al Basile
Label: Sweetspot Records
Tracks: 13
Length: 52 minutes