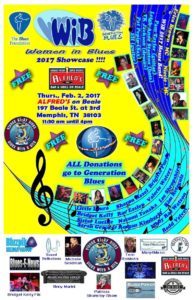 Memphis, TN – The National Women in Blues and Yippee Ki-ay Radio bring you the 5th edition of the Women in Blues Showcase, as part of the Blues Foundation's 2017 International Blues Challenge (blues.org). This will be our 2nd year at Alfred's on Beale and we are so excited. Our showcase and live stream interviews will all be at this location, giving you the chance to enjoy food and drink along with incredible female blues artists. Watching them perform in the showcase or sitting in while we interview artists from around the world.
This year's line-up is packed full of talent. Not to mention, we are bringing back our favorite blues storyteller, Redd Velvet (featured in Sept Smithsonian Magazine) to close and we are trying something new to open the show. Also featured in the same magazine issue, is our MC Erica Brown, who will do an opening set to warm up the crowd with our first-ever, all female house band, lined up by Janelle Frost. Featuring Pam Taylor, Eef, Tk of Southern Ave, Leigh Ann Stanton and Pat Pepin. The house band will also back up some of our artists who came to town, without their own bands in tow. Also on hand will be Niecie Blues to intro MC Erica Brown and our all-female house band.
Our performers are Women in blues, both in the IBC and out. From mature to youth, from the states and as far as Japan. This is an event that is sure to get you excited.
Enjoy wonderful blues music by many of the great Women in Blues performers and some of our finest blues brothers, while partaking of Alfred's tasty lunch menu. We'll be passing a bucket with all donations going directly to The Blues Foundation's Generation Blues Scholarship Fund, providing resources for youth musicians to attend summer blues camps and workshops.
Showcase performers will include MC, Erica Brown, Sharon Hazel Township, Lee Shropshire, Rebekah Easley Ellis, Kimberly Dill, Kim Reteguiz, Bridget Kelly Band, Libby Rae Watson, Bridget Rios Purdy, Nacomi Tanaka & The Blues Temple, Little Laura Lamun, Campfire Soul with Sarah Grace & Reagan Kimberly and closing set from Blues Storyteller, Redd Velvet.
Voluntary Donation to Generation Blues Greatly Appreciated!
Thursday, February 2, 2017
11:30am until 4:00pm
Alfred's
197 Beale Street
Memphis, TN 38103