Editor's Note: We have compiled this "10 Under 30" list in order to recognize these talented, young artists. In the coming weeks, we will be publishing individual interviews with these exceptional performers.
There are dozens of artists, in the world of music, under the age of 30. The pop charts are filled with them. There are genres, however, in which an artist must rely less on production wizardry, and more on natural-born talent, and dedication to craft. So it is in the schools of blues, roots, and soul music. Fans of these categories are rabid. They can spot a lip-syncer from a mile away, and smell a phony like a skunk in church.
Therefore, in each generation, a group of young hard-chargers deserves special recognition. Some are child prodigies. Others turned their love of music from a hobby into a career. We don't claim this to be an encyclopedic list of all the young guns out there tearing up the charts. This is, however, a group of "10 Under 30," that have flown directly into our radar.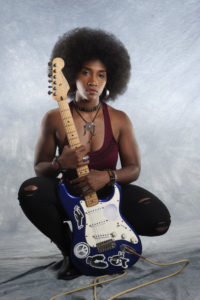 Melody Angel – Although it sounds like a stage name, Melody Angel is the name her mother gave her at birth. Born and raised on Chicago's South Side, she began to sing at age seven. At age 13, her mother bought Melody her first guitar, a used Fender Stratocaster, from a local pawn shop. Inspired by artists from Michael Jackson and Prince, to Buddy Guy and Jimi Hendrix, she taught herself to play, and began writing original songs. In 2009, she was a finalist on the MTV reality show, P Diddy's Starmaker. Since that time, she has appeared at the Chicago Blues Festival, and famed blues clubs including Buddy Guy's Legends, Rosa's, and Antone's. Her live performances are electric. Melody's original songs, such as "Cease Fire," and "In This America," weigh in on the collective social conscience. "Nina Simone said something in the 60s, that resonated with me so much that it changed the course of my life forever. She showed me that singing my truth could help free and inspire my people. One voice could change the world!" – MA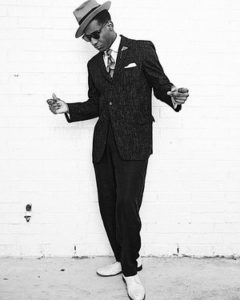 Leon Bridges – Bridges credits his father, for planting the seed of soul music in him. In his youth, he was surrounded by the music of Stevie Wonder, and Curtis Mayfield. A current purveyor of soul, gospel, R&B, and blues, Leon was 26 years old and working as a dishwasher in Ft. Worth, Texas when he was signed by Columbia Records in 2014. In one year's time, he went from open mic nights to the global stage. Since the release of his debut album, Coming Home, Bridges has toured the world. He's performed at several music festivals, and been nominated for a Grammy. Heralded as the second coming of Sam Cooke, with a splash of Otis Redding, he is also an accomplished guitarist. Bridges adds to the mystique by wearing vintage clothing during live performances. "I'm not saying I can hold a candle to any soul musician from the '50s and '60s, but I want to carry the torch." – LB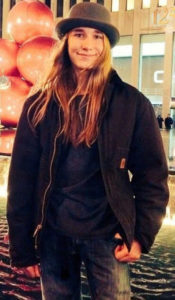 Sawyer Fredericks – The story of Sawyer Fredericks is one of a farm kid made good. Born in Newton, Connecticut, the family moved to an 88 acre farm in upstate New York when Sawyer was eight years old. Being home schooled, using the "Unschooling" method, he began voice training at the age of 11. Two years later, Fredericks recorded a 6-song demo, and in 2013, he independently released his first studio album, Out My Window, consisting of 15 original tracks. In 2015, Sawyer competed in, and won, the eighth season of The Voice. Covering a wide range of songs, from "Man of Constant Sorrow," to the Al Green classic, "Take Me to the River," he won a cash prize and a recording contract with Republic Records. His eponymous EP went to #1 on the Billboard Folk charts, and his debut album, A Good Storm, charted at #2, selling 11,000 copies in its first week. His first headlining tour saw 49 stops in five months, as well as a bevy of charity events across the nation. "I can be happy just living on the farm, and enjoy music just for myself. I don't have to perform." – SF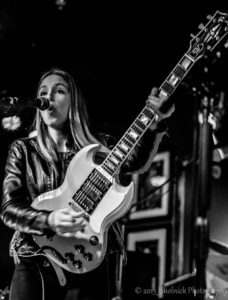 Heather Gillis – Florida native, Heather Gillis, is a force to be reckoned with. A recent graduate of Florida State University, she fronts her own band, based out of Tallahassee, and was a full-time member of Butch Trucks' Freight Train Band. A confident guitarist, singer and songwriter, her mature, soulful voice belies her age. Whether she's performing jazzy numbers such as, "I Found a Love," rocking out at, "100 MPH," or doing up the blues on, "Gonna Be a Storm," Gillis is comfortable with it all. The band's debut album, Heather Gillis Band, was self-released in late 2015. She has not only formed a local following for herself, but has also befriended, and performed with, Matt Schofield, The North Mississippi All-Stars, and many others. Her energetic live shows contain her original music, as well as unique covers of rock, soul, blues, and roots music. "Heather, you rocked again. We gotta do this some more and I am absolutely certain that we will. Practice and stay cocky. Love ya." – Butch Trucks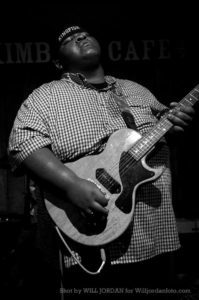 Christone 'Kingfish' Ingram – The Mississippi Delta is the epicenter of the blues. It's where it all began, and Christone Ingram was born there. Like so many before him, his first exposure to music was in church. The rich gospel sounds, mixed with the blues being played in his neighborhood, set his course at an early age. A cousin of legendary country artist, Charlie Pride, Ingram soaked it up like a sponge. He was playing drums at age six, picked up the bass guitar 3 years later, and by age 11, began playing lead guitar. Ingram honed his craft at the Delta Blues Museum. His voice sounds as if it emanates from a performer thrice his age. A big man, with a huge talent, he's breathing new life into the sounds of the Delta blues. His influences run the gamut from Robert Johnson to Prince, and his playing shows it. Having recently celebrated his 18th birthday, Kingfish has played all over the US and in six other countries, including a performance at the White House for former First Lady, Michelle Obama. "I got hooked. This is what I'm going to be playing for the rest of my life." – CI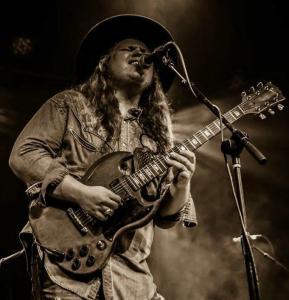 Marcus King – Marcus King was born to play. He first picked up a guitar at age two. He got his own at age seven. As a pre-teen he was performing with his bluesman father, Marvin King, in and around his hometown of Greenville, South Carolina. He is now 20 years old, and leader of his own band, with two charting albums under his belt. A gifted multi-instrumentalist with an incendiary voice, Marcus is also a first-rate songwriter. His is a brand of American roots music that he calls, "soul-influenced psychedelic southern rock." King has no bigger champion than the venerable Warren Haynes, who produced The Marcus King Band, last year. The band is fast becoming one of the most sought-after live acts in the country, and beyond.  "I write as a form of therapy, to release my emotions into a musical expression. I want people to know they're not the only ones going through that pain. Music is the true healer." – MK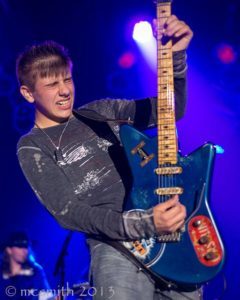 Tallan Noble "T-Man" Latz – Another teenage phenom slinging the blues is Tallan Noble Latz. Known as "T-Man," he has shared the stage with dozens of acknowledged masters of the craft, even including Blues Hall of Famers, Buddy Guy, Hubert Sumlin, and Lonnie Brooks. Beginning on drums at age three, he moved to acoustic guitar the next year. By age five, he finally got serious and began playing electric guitar. He's been leading his own band, the Tallan Noble Latz Band since age seven! At age nine he made his first recordings of original songs, and collaborated with Anthony Gomes two years later. When he turned 12, he partnered with Dangerous Guitars, creating books and instructional videos. A dynamic guitarist with an old soul, Tallan has a natural-born stage presence. Most people who see him play live, for the first time, can't believe the artist they're watching, and hearing, is not yet 18 years old. "I'm just a kid from Wisconsin who loves to play guitar. But when I'm onstage it's 110%, nothing less." TNL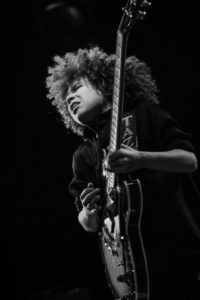 Brandon "Taz" Niederauer – It all started for "Taz," when he watched the movie, School of Rock, at age eight. He decided, then and there, that he wanted to play guitar. That was just five years ago. Who would have thought that in four short years, he would be performing as guitar wielding "Zach Mooneyham," in the Tony-nominated School of Rock the Musical on Broadway? That wasn't even his first major gig. By the time he was 10, he had been on Good Morning America, The Ellen Degeneres Show, and had met storied bassist, George Porter, Jr. of The Meters. After that it was performances with artists including Robert Randolph, Warren Haynes, Gregg Allman, Eric Gales, and countless others. Living in New York gives Taz a unique opportunity to sit in with great acts as they come through town. He's also played a myriad of festivals, and released an album with his band, Lions on the Moon. "No one in the world could force me to do this. I've been listening to music I don't know for how long. I think on the ride home from the hospital The Allman Brothers was on or something." – BN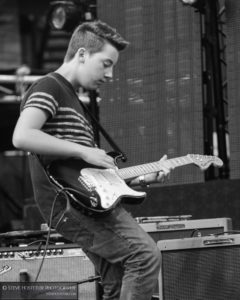 Quinn Sullivan – Unless you've been living off the grid for several years, you've heard the name, if not the lightning guitar playing, of Quinn Sullivan. A native of New Bedford, Massachusetts, Quinn began taking guitar lessons at age three, and wrote his first song not long after. He's been a professional musician for over 75% of his life, and he won't turn 18 until March. At age eight, he met, and became a friend, and devoted disciple, of Buddy Guy. Taking the young Sullivan under his wing, Guy introduced him to the life of a modern day bluesman, including taking him on tour. Quinn has played with a laundry list of artists including B.B. King, Eric Clapton, and Joe Bonamassa. His third studio album, Midnight Highway, was just released a week ago. He has also played several editions of the Experience Hendrix Tour, backed by Jimi's original bassist Billy Cox. Quinn's upcoming tour dates include stops in Ajax, Ontario, and Mumbai, India. "They're [my friends] struggling to come up with what they're going to do when they're out of school, but I've decided this is what I'm going to be doing for the rest of my life." – QS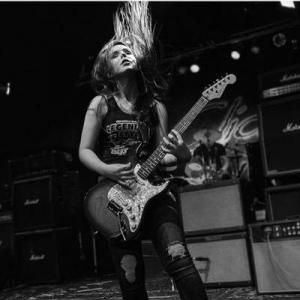 Ally Venable – Powerhouse blues rock guitarist and singer, Ally Venable, is a product of the Lone Star State. Claiming that she's been singing since she could talk, she was a member of her church's youth choir. She began playing guitar around age 12, and has had her own band for about four years. Their most recent project, the album, No Glass Shoes, is making waves in Texas and beyond. For a young woman, still in high school, her voice is soulful, and gritty, just the way we like it. Especially when covering a song like Bonnie Raitt's, "Love Me Like a Man." Although the protege' of Deep Elem guitar slinger, Lance Lopez, Ally also includes Raitt, Stevie Ray Vaughan, and Samantha Fish among her influences. She has twice been named Female Guitar Player of the Year by the East Texas Music Awards, while her group has won Band of the Year honors, twice as well. Venable plans to attend college, but has no intention of giving up music. "God gave me a gift. I want to use what he gave me. Hopefully I can get far with it. I can't see myself not doing music." – AV