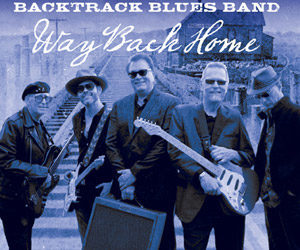 With the winter months gripping most of the nation, a trip to Eleuthera in the Bahamas sounds nice right about now. If one can't make it to the Bahama's to escape the cold, may I suggest Way Back Home, the latest release from the Backtrack Blues Band.  With ten blazing new tracks, this album is a surefire way to keep the soul warm this winter!
"Tell Your Daddy" is a true blues number that delivers on all levels.  With Sonny Charles providing some hot licks on the harp and lead vocals this song is a scorcher from start to finish! Fans will also get the royal treatment on this number with some out of this world guitar riffs provided by lead guitarist Kid Royal.
As we journey through this beautifully crafted album, we get to the third track, "Shoot My Rooster."  For those who gravitate to blues piano, Victor Wainwright will have them grinning from ear to ear as he makes those eighty-eights sing.  Wainwright lights it up on the rest of the album as well.
"Rich Man Blues" is a song everyone can relate to, a tale of the next guy seems to always have money and I have just enough to get by or not enough to make ends meet.  The track has a heavy beat provided by Jeff "Stick" Davis and Joe Bencomo on drums, and gritty vocals that will make fans feel they are in any given blues club, tearing up the dance floor.
"Heavy Built Woman" is a perfect example of a song where everything clicks; from Little Johnny Walter's rhythm guitar, to Sonny Charles once again schooling listeners on the harp.  "Heavy Built Woman" is no light weight and is sure to become a fan favorite at future shows.
Backtrack Blues Band has been delivering some of the finest blues to come out of the Sunshine State and continues to do so on The Way Back Home. This album is a must have for all blues lovers.  If it's piano blues that gets your engine humming, then this album is for you.  If you can't get enough harp playing, you will be left breathless.  This album is sure to make existing fans happy and bring numerous new fans out to see The Backtrack Blues Band.  Don't have a copy of Way Back Home yet? Pick one up one soon!
Backtrack Blues Band – Way Back Home
Label:             Harpo Records
Tracks:            10