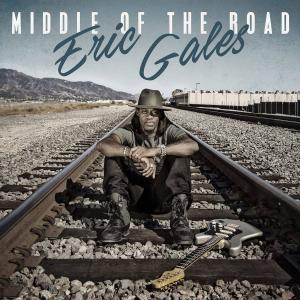 New York, NY – Provogue/Mascot Label Group will release Eric Gales' new studio album, Middle Of The Road, on February 24th. The release is Gales' fourth album on Provogue/Mascot Label Group after Transformation (2011), Relentless (2010) and The Psychedelic Underground (2007), and his 15th overall. seeing him at his most expressive yet; it is a deeply personal and reflective record that echoes where he is in his life right now and he opens himself up and allows himself the chance to really flourish.
Memphis-born Gales shares, "Unfortunately you have to go through some things to be free. Now, I feel the most free I've ever been in life, even more so than when I was a kid. You gotta help yourself man, once you can help yourself you can genuinely help someone else."
Its well documented that Gales was a child prodigy and heralded as the second coming of Jimi Hendrix when he released his debut album, The Eric Gales Band, in 1991 as a 16-year-old on Elektra Records. It was the first of 10 albums on a major label through a blistering career. He has released 14 studio albums in total ahead of Middle of the Road and a host of other collaborations, one of which led him to work with producer Fabrizio Grossi.
Talking about working with Gales, Grossi offered, "I've been a fan of Eric since I first worked with him 15 years ago…Eric is simply Miles Davis and Jimi Hendrix' love child. That's my story and I'm sticking to it."
This release was recorded in several locations; Room A Studio, and Fab's Lab in North Hollywood, California, as well as Cuz Studio and Sound in Cleveland, Mississippi, and Cotton Row Studios in Memphis, Tennessee. Backing musicians include Aaron Haggerty (drums), Dylan Wiggins (Hammond B3 Organ), LaDonna Gales (All backing vocals), Maxwell 'Wizard' Drummey (Mellotron on Repetition), and Eric Gales providing all lead vocals, guitar and bass.
Recent accolades have been pouring in from artists such as Dave Navarro, Mark Tremonti, and Joe Bonamassa, who said Gales is, "One of the best, if not the best guitar player in the world."  To these praises, Eric humbly adds, "Its absolutely great, I'm grateful to see the recognition for the work that God has allowed me to continue to progress with. Its beautiful to see the recognition to be finally coming and in the proper way, unlike times where I was engaged into heavy addiction, where it wasn't such good publicity, but to see it be changed around, it's a great turn of events." This refers to the time he spent in jail, serving at the Shelby County Correction Center in 2009 for possession of drugs and a weapon.
This is where Middle of the Road finds the rebirth of Eric Gales. A new album that has seen him more free than he's ever been. On the biographical songs you take this journey with him. Along the way he brings in not only a host of guest and collaborators, but also those closest to him, including, Lauryn Hill, Gary Clark Jr, Lance Lopez, Raphael Saadiq, Christone 'Kingfish' Ingram, and Eric's mentor, and elder brother, Eugene Gales.