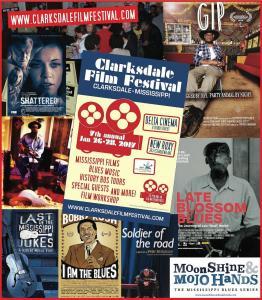 Clarksdale, MS – Once again this blues music mecca will come alive, this time with the amazing happenings at the Clarksdale Film Festival, Thursday, January 26th through Saturday, January 28th.
This year's events will include Mississippi films, history bus tours, special guests, a film workshop, and of course, live music! What could be better than celebrating blues in Clarksdale?
Festival highlights include showings of Last of the Mississippi Jukes: A Robert Mugge film, and A Night at Club Ebony: A Robert Mugge film. Robert Mugge himself will be there to meet and greet fans and introduce his films. On Friday afternoon there will be a reception in the Delta Cinema lobby. There will also be showings of various episodes of the series, Moonshine & Mojo Hands: The Mississippi Blues Series. Music will be performed by Sean "Bad" Apple.
Learn more about the Delta Cinema, and the New Roxy.
Check daily schedule of events here.