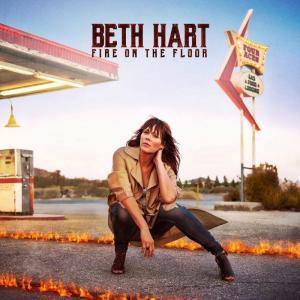 In every generation, there are a handful of female blues vocalists that rise far above the common ground. Names such as Bessie Smith, Etta James, Koko Taylor, Tina Turner, and Billie Holiday are forever etched in the world's psyche. For the past two decades, Beth Hart has been climbing that stairway to musical immortality. Her new album, Fire on the Floor, is a prime example why.
Hart, the eclectic songsmith with a voice like burnt honey, has tapped into every genre to which she's been exposed. The result is this multifarious, original collection of blues, rock, gospel, and emotional release. "As a writer," she nods, "I feel really stifled if I'm trying to write in the same style. I just can't do that. Growing up as a kid, I was raised all over the place stylistically, loving so many different genres."
Our first exposure to Hart, who just turned 45 this week, was back in 1993, when, at just 21 years old, she won Best Female Vocalist honors on Star Search. Performing original songs, in holey jeans, she knocked the judges out of their socks. Since then, her tenacity, and dedication to her craft, have gifted us a dozen critically acclaimed albums. She's also been nominated for two BMAs and garnered a Grammy nomination for Seesaw, in 2014. Additionally, she's collaborated with some of the world's top guitar slingers, including Slash, Jeff Beck, and Joe Bonamassa.
The very first track, "Jazz Man," musically transported us to the speakeasy days of Chicago or Harlem. Complete with Hart's scatting, that would make Ella Fitzgerald proud, the lyrics even offer the more timely, "that's the way they roll." The piano work of famed session artist, Jim Cox (B.B. King, Aaron Neville), dolls this one up nicely.
Producer, Oliver Lieber, gathered a crack studio team for a marathon three-day recording session. Along with Cox on piano, Michael Landau (Boz Scaggs), and Waddy Wachtel (Joe Walsh, Fleetwood Mac), provide the electric guitar work. Acoustic guitar parts come from Dean Parks (Steely Dan, Michael Jackson), while Robben Ford's bassist, Brian Allen, lays down the bottom. With Rick Marotta (Aretha Franklin, Edgar Winter), on drums, and Ivan Neville (Bonnie Raitt, Dumpstaphunk), on Hammond B3, this album was destined to be a melodic masterpiece.
"We recorded sixteen songs in three days," says Hart of the quickfire LA sessions, "but then we spent a long time mixing. Oliver is a brutally hard-working person, but he's also incredibly sensitive and that combination works so great. He's strong and focused, but still so vulnerable, and his heart is wide open. I'm so proud of what he did on this record."
Another jazzy offering is "Coca Cola," while, "Fat Man," is pure rock and roll. Other nicely upbeat tracks include the soul tune, "Let's Get Together," and the latin-flavored, "Baby Shot Me Down." "No Place Like Home," is a quintessential singer/songwriter number, while "Woman You've Been Dreaming Of," is a stinging ballad of betrayal.
The bonus track, featuring Jeff Beck, "Tell Her You Belong to Me," has Hart going from a husky whisper to an earth-cracking, Joplinesque demand. On "Picture in a Frame," she plumbs her own emotional depths, both vocally and lyrically.
While the first official single from the record, "Love is a Lie," is Beth Hart at her most recognizable, our nod for favorite goes to the title track. "Fire on the Floor," as the title suggests, is absolutely smoldering. This one should be grabbed up by Quentin Tarantino, for his next neo-noir film. A combination of sexy and angst-ridden, it left us with chills.
Overall, Fire on the Floor is the record that we've been waiting for from Beth. In our opinion, it's her best, to date, and has something for everyone. If you aren't already a devotee, this album will not only convert you but will baptize you in the fire that is Beth Hart.
Fire on the Floor, which was released in Europe and Australia in October, drops in North America on February 3rd.
Title: Fire on the Floor
Artist: Beth Hart
Label: Provogue/Mascot Label Group
Release: February 3rd, 2017 (North America)