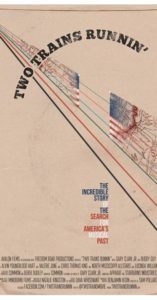 Currently making the rounds on the film festival circuit, is the feature length documentary, Two Trains Runnin'. Award winning director, Sam Pollard, and producer/writer, Benjamin Hedin, give life to two stories that many of us know, but have never put together.
In June, 1964, hundreds of college students made their way to Mississippi. Their goal was to join the civil rights movement, and register as many African-American voters as possible. Organized by the Council of Federated Organizations (COFO), it was dubbed the Mississippi Summer Project. Over the course of 10 weeks, over 1,000 volunteers were arrested, 80 were beaten, 4 were killed, and nearly 70 black homes, businesses and churches were bombed or burned. However, after the creation of several freedom schools, the Mississippi Freedom Democratic Party, and being a catalyst for the 1965 Voting Rights Act, it came to be known as Freedom Summer.
At that same time, two different groups, made up of musicians, college students and record collectors, also traveled to Mississippi. Though neither group was aware of the other, each had come on the same mission. They wanted to find two old blues singers and coax them out of retirement. Son House and Skip James had recorded some revolutionary blues music in the 1930s but had faded into obscurity. Finding them would not be easy. There were few clues to their whereabouts. It was not even known for certain if they were still alive. To top it off, local law enforcement, as well as the Ku Klux Klan, would not differentiate between young blues music scholars, and "outside agitators."
According to the film's website, on June 21st, 1964, the two campaigns collided in a memorable and tragic fashion.
The story is narrated by Academy Award winning actor, and musician, Common, who is also Executive Producer of the film. Featuring the music of Gary Clark, Jr., Two Trains Runnin', has shown at several prominent theaters, and International Film Festivals, since April of 2016.
The next scheduled screenings are:
February 18th – Oxford Film Festival – Oxford, Mississippi
February 24th – Nacagdoches Film Festival – Nacagdoches, Texas
March 16th, – Sheldon Theatre – Red Wing, Minnesota
https://www.youtube.com/watch?v=DMXHwxkJkIM