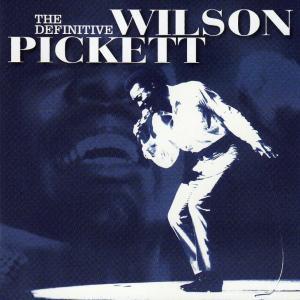 Wilson Pickett is an icon of soul, and to this day his presence looms large. He had over 50 songs that charted. Everyone knows "In the Midnight Hour," but he had more hits including "Funky Broadway," "Land of 1000 Dances," and Mustang Sally." Among his other notable works and masterpieces are "Hey Jude," "I Found a True Love," "You Keep Me Hangin' On," and "Don't Let the Green Grass Fool You."
Pickett's many accolades and honors include his 1991 induction into the Rock and Roll Hall of Fame, recognized for his influence on the soul idiom through his performances, composing, and recording skills. He also received a Pioneer Award from the Rhythm and Blues Foundation in 1993. As a vocalist, he is listed at number 68 on Rolling Stone magazine's list of "100 Greatest Singers of All Time."
Recently, Pickett's daughter Veda Pickett Neal spoke with us about growing up with "The Wicked Pickett," his music, his career, and how she is keeping his legacy alive through her own musical tributes to him.
Wilson Pickett was born in Prattville Alabama in 1941, the fourth of 11 children. As a young teen in 1955, he left home and went to live with his father in Detroit. He would say that his mother was a hard disciplinarian, telling Gerri Hirshey "I get scared of her now. She used to hit me with anything, skillets, stove wood — (one time I ran away) and cried for a week. Stayed in the woods, me and my little dog." Neal says, "I really didn't know my dad's mother. I only really met her twice. The only grandmother I knew was my grandmother Helen. He moved there to Detroit because his mom and dad were divorced and his mother couldn't handle him, so eventually, he winds up coming and moving in with my grandfather."
The body of work that Pickett has left us, over 31 albums, is astonishing. Not to mention his contribution to the way songs are recorded and performed. Neal reminds us that "He wasn't looking to be this great artist. He didn't realize how talented he was until he did that movie, Soul to Soul in Africa. That's when he really knew that he was loved. He was just a down to earth person who just wanted to sing."
Artists from all genres covered Pickett's work including Led Zeppelin, the Grateful Dead, Echo and the Bunnymen, Los Lobos, the Rolling Stones, and Booker T. & the MGs. When I ask Neal how she feels about this she pours over this list, thinks for a moment, then says, "One thing I do know, without a shadow of a doubt is that over in the UK, they're just playing my dad's songs like crazy. There's a lot of bands that send me material of them singing his songs. They do more overseas than they do in the states. So, his material is always going, all the time, but mostly overseas."
One must also consider the wealth of masterful artists that Pickett himself worked with: Booker T. & the MGs, Isaac Hayes, Spooner Oldham, Jimmy Johnson, Tom Dowd, Duane Allman, and more. Neal worked with Oldham on her remake of her dad's "In the Midnight Hour" single. "The single that I'm doing of one of his hits, "In The Midnight Hour," and Spooner [Oldham] is the one who played the keyboards for me. So what he did with my dad, he also did with me. They would tell stories of how my dad would just come into the studio and perform, like nothing. It was something he loved to do and it was a passion; it was natural to him, just like breathing. He didn't have to have 50 dozen takes. He just went in and gave his all.
"For me to sit down with some of the same people that worked with dad, it was a blessing.  I just went to Fame Studios and started cutting some of the things that I want to do on a tribute album to my dad. To go into that same studio that my dad performed his songs, all his great hits was a blessing and an honor to me.
Working with some of those guys was just awesome. I was grateful and thankful that they can perform with the next generation."
While she didn't have any stories or memories to relay about her dad working with Duane Allman, she did speak to his friendship with Bobby Womack. "I didn't really know too much about Duane but I knew that my dad and Booby Womack were very close. Some of the things that my dad would say about how they didn't want Bobby Womack because of the incident with Sam Cooke. We all know that story, but he put Bobby Womack back on the map. Some of the songs that Bobby Womack couldn't sing, my daddy sang. They both kinda worked together."
What was it like to grow up with Wilson Pickett as your dad? "He was a great dad. He had his moments. He would give me the 'Birds and the Bees' conversation, you know, and never have it right. I would laugh at him. He'd have on an outfit and he'd say, 'How you think this outfit looks?' I'd say, 'No dad, that outfit doesn't look right.' He'd still wear it anyway. He was really funny. If he wasn't a singer, he'd have been a comedian. If he didn't like something, though, he'd tell you he didn't like it.
"To hear my dad sing to me at night: When I became a teenager, me and him sitting in a front room, singing songs together, with him teaching me how to hold my note and different things like that. That's something that you cherish. My dad was my alarm clock every morning. That's what he did; he sang. You pouring cereal in the cereal bowl, he'd make a song out of it. He could take a walk down the street and he'd still be singing; that was him. All he knew was music."
Sometimes folks spend more time looking at Pickett's darker side, his drugs and drinking side than they do examining his music. While it certainly was a part of who he was, it was by no means the overwhelming determination of how he lived his life, nor the person he became. Neal speaks candidly about this side of her father. "One thing I can say about that. Growing up, my daddy never took any drugs or drink any alcohol. He was more like a milk kid, but as time went on, things did happen where he'd wind up getting involved with people – that you get so far in the music industry, you're gonna have those type of people that come around.
"My dad started off as a social drinker. You know going to the after parties and one thing led to another. And yes, he did get out there on drugs and cocaine and different things like that. It took a lot out of him. A lot of times people don't realize that mostly all the entertainers went through that. At some period of their time, they went through that, because a lot of the people were around them would give them that."
As time went on, Pickett's drinking and drug use wore on him, and as it does with everyone, it caught up with him. "When he got older, it took a toll on his body. It took a toll on his life. That's what caused his downfall. His body just started deteriorating because of drugs, because of the drinking. Yes, he did have his downfalls, but he always gave his 150% to his fans. Even when he was sick. The last couple performances that he did before he passed away, that's all my dad talked about. I would tell him 'Dad, you can do certain things anymore,' but he got up and he did what he had to do till his dying day. He wanted to make sure that his fans got the best of him."
These days, Veda Pickett Neal is on a mission: Keep her father's legacy alive, keep his music alive! "That's my whole thing is about keeping my daddy's legacy alive. A lot of people wanna hear more about him and his music, than his downfalls, and different things like that. That doesn't make a person. What makes a person is what they contribute to the music industry. My dad was one of them.
"A lot of people are asking more and more for my dad's type style, or Otis Redding type style, because that music will never die. The new generation is trying to take from the old generation."
Neal believes that these days, there is a renewed demand for her father's music and the old-school flavored soul in general. She believes there is a craving for it. And why not? There's a lot of music that's seeing a revival whether it's soul, or funk, Motown, whatever. The craftsmanship that went into that music is breathtaking. Go back and listen to the house band for Stax, or The Memphis Horns, or The Funk Brothers. It's pretty difficult, if almost impossible to match that today. And yes, the people playing today are talented, but the house bands from back in the day were are standard that everyone aspires to now.
Neal loves that sound; it moves her. "There's nothing like having that sound, like a live band. This is what I'm doing too. I'm getting with my band – there's nothing electronic with me at all. This is what I learned from my dad"
Currently, Neal is creating music to honor her father's legacy. "There's a lot of bands that send me material of them singing his songs. They do more overseas than they do in the states. So his material is always going, all the time, but mostly overseas.
"One band in the UK, Big Macs Wholly Soul Band, sent me a song that they wrote for my dad called "After the Midnight Hour" which I will be singing on. I just put my vocals down and they're gonna be working on it pretty soon and hopefully, that will come out this year.
"It's really hard to do Wilson Pickett material, so if you decide to do it, boy, you gonna have a challenge. It's very hard to do my dad; it really is. He was a good screamer. That was his trademark, and it's hard to do it. People are still buying his material like crazy. There's a lot of other things, projects that I'll be working on coming up that people are asking me to do. So that should be a good thing for him, hopefully for this year."
Neal has her own single out as an independent release, a remake of her father's "In the Midnight Hour," available on Amazon.com and iTunes. She is grateful for all the support and encouragement she has received so far from fans and musicians as she works to keep the music of Wilson Pickett alive and fresh so that future generations will appreciate and enjoy his legacy.
"So far, so good, I'm getting some airplay with the single, and some little interviews. Hopefully, it will take off. I'm grateful. I'm thankful for you guys helping me to really get the word out about what I'm doing, and my dad's legacy is still here. Let my fans know that they're family just like they were family to my dad, and I hope they will support me as well."