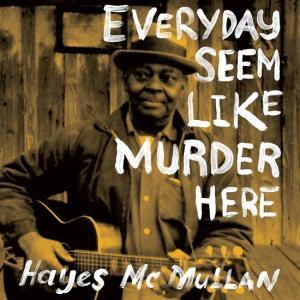 A decade ago, country blues fans were awash in a steady stream of reissues and newly unearthed field recordings from the blues revival heyday of the 1960s. Lately, though, that stream has been reduced to a mere trickle.
Delmark Records still manages to unearth some old gems from the vaults by the likes of Sleepy John Estes and Arthur "Big Boy" Crudup. Fat Possum/Big Legal Mess continues to mine its collection of George Mitchell field recordings, and Mississippi Records out of Portland mixes in a good dose of vintage rural blues amid its vinyl releases.
But for the most part, it's been pretty slim pickings lately for new discoveries of down-home blues from a bygone era.
All of which makes Light in the Attic Records' new release Everyday Seem Like Murder Here by the obscure Delta blues guitarist Hayes McMullan such a genuinely delightful surprise.
McMullan was discovered – entirely by accident – in Tallahatchie County, Mississippi, back in the summer of 1967 by blues collector and scholar Gayle Dean Wardlow. As was his habit, Wardlow had stopped an older black man on the street to ask if he had any old blues 78s by the likes of Blind Lemon Jefferson or Charley Patton. The man, who turned out to be Hayes McMullan, didn't have any records but he was very familiar with Patton and even claimed to have played with him back in the late 1920s. That revelation led Wardlow to visit McMullan at his sharecropper shack near Tutwiler the following week. Wardlow brought along an acoustic guitar, a bottle of whiskey and – fortunately – a tape recorder.
As the whiskey began to flow, so too did the stories and the songs.
Impressed by his discovery, Wardlow convinced McMullan to travel south to Jackson the following year for a couple of follow-up sessions.
The recordings reveal McMullan to be a dynamic performer, possessed of a wide repertoire and capable of performing in a variety of tunings. That's particularly remarkable in light of the fact that he hadn't picked up a guitar in more than 30 years at the time of the first session included here.
Although his picking is not on the level of Patton, Willie Brown or Ishmon Bracey (all of whom he knew and played with back in the late 1920s), he shares much of their distinctive percussive style. Vocally he shares more in common with Tommy Johnson's acolytes like Roosevelt Holts and Babe Stovall.
Several of the songs included here are Patton's, and most of the others are peppered with floating verses common to Delta blues artists of the time, so in that respect, there's nothing "new" here. But McMullan is a thoroughly engaging performer and a charming storyteller. The recordings, although informal, sound warm and intimate.
Remarkably, only one of the songs on this collection has been available publicly until now, and that track was only available on a compilation CD included with Wardlow's 1998 book Chasin' That Devil Music.
To say that this is a welcome release is an understatement, particularly when so few recordings of this type are being issued today.
Everyday Seem Like Murder Here is available digitally as well as on CD or double LP. My vinyl copy is a beautiful gatefold edition with lots of great pictures and detailed liner notes.