Editor's Note: We recently spoke to the leader of the Big Damn Band, Reverend Peyton himself. What started as a chat about their upcoming album, turned into an in-depth conversation about influences, old school vs. modern techniques, and saving the blues in America. Therefore, this will be part one of a two-part article. Here, we'll discuss the album, and this world premiere release of the single. In part two, we'll get deeper into the mind of the Rev.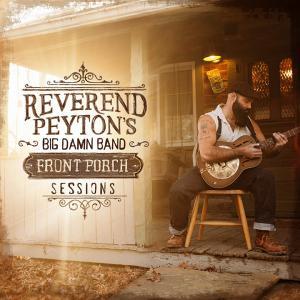 The newest release from The Reverend Peyton's Big Damn Band, entitled, Front Porch Sessions, will be released on March 10th. We are proud to present the world premiere of the stand-out single, "One More Thing."
With a touring schedule of over 250 dates per year, we had a rare opportunity to sit down with the Rev and discuss the song, in particular, and the album in general.
"'One More Thing,' is a song I wrote," he begins. "People talk about all the homeless people we have today. The one thing I know, in particular, especially in rural areas, is there are lot of people that are one catastrophe, one mistake, just one more thing from themselves being homeless. I think that's a bigger problem. I think it's why there are a lot of people feeling hopeless right now. They don't have a big safety net in a bank. They may be getting by, but one big thing happens, and that's it. When I wrote that song, I was just expressing myself, really."
The lyrics of "One More Thing," resonate across cultural, financial, and racial lines. However, the Rev points out the rural population as the catalyst for writing it. "All I do with a song is try to write what I know, what I see, and what I live. Rural people don't like to let on that they're having trouble. People in the city, they'll get on Twitter and scream it, but rural people don't like other people to know. They're too proud."
We asked if the entire album was written from a rural point of view. The Rev's response, was one we didn't expect. "You're gonna get a kick out of this, because it's nuts," he says with a chuckle. "I write all the time. But what I don't do all the time is finish what I think is a good song. To me, a song has to pass a certain test, and I end up throwing a lot of stuff away. When we went in to do Front Porch Sessions, we booked some studio time and said, 'we want to do some recording.' I wanted to make a record. But I didn't know what, yet. So I gave myself one week. I holed up in a cabin, and I just started writing. I had never given myself such a short deadline before. About 36 hours before the session was to begin, "We Deserve a Happy Ending," came to me. I had written, "One More Thing," the day before, and had finished "One Bad Shoe," and Happy Ending was the last thing that came to me. It was at the moment I thought, I think I have a record."
What's one thing that all the music on the release has in common? The Rev explains, "This one may be more stripped down than a lot of stuff we've done. If you took every record we've ever done, and turned the drums down, it wouldn't sound that far off from this. I just wanted this one to be a little bit more like if you were here on my front porch, and we were hanging out. Like, 'We Deserve a Happy Ending.' That song there, is Max hitting his palm on a suitcase for the kick drum. There's hand claps, and some tambourine from Breezy's washboard. I mean, it's absolutely minimal."
He continued, talking about the production. "This is another record I produced myself. It kind of put me in a mindset, as a producer, of going back to, sort of, where I started. I mean 1930s ribbon mics, thinking about placement and the room it's in. Even at Chess Records, those recordings were made with two microphones. Two microphones in a room. Less is more, ya know? I really want to hear the room. But, the secret is finding a good room. Front Porch Sessions has a lot of that. We put the mic far away, so we could really hear what was happening. This album just sounds rich, like fudge. I want people to hear it. I'm really proud of it. It represents, to me, being right out in the open. There's no drums to hide behind. I just know if people get it, and listen to it, they're going to like it."
When we asked if he had a personal favorite, he was quick to respond, "'We Deserve a Happy Ending,' is the first song on the record. There are a lot of songs that could be my favorite, but that one's kind of my favorite song on the record, just because it makes me feel good to play it. Since I was 12 years old, I've always tried to do things that I thought were cool, and made me happy. I take the same style, country blues guitar, to places it's never been. I want the music I make to sound timeless. I don't want it to sound like it was done 100 years ago, and I don't want it to sound like it was done yesterday. I want people not to be able to tell when it was done."
With that thought in mind, we're proud to present the World Premiere of, "One More Thing."