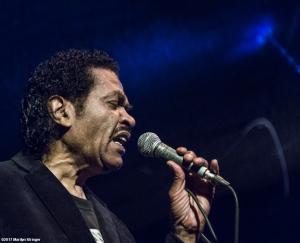 Phoenix, AZ – It was a star-studded night at The Rhythm Room on February 11th. For the fourth year, Dr. Janice Johnston and Kathy Bolmer, both HART Fund board members, put together another wonderful evening of donated time and blues music for The HART Fund.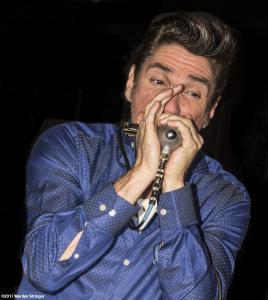 Bob Corritore, Rhythm Room owner, donates the door and spends the entire evening adding his harmonica mastery to almost every group.  Janice (and her best friend Ann Lee-Lippert) gather donations for the silent auction, set up the room, are the evening announcers, and they manage to convince their friends "The Destroyers" (without George Thorogood) to come play each year. As Jeff Simon told me "Hey, we all have to do our part when we can."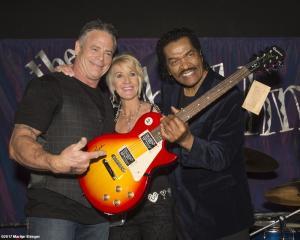 Kathy brings the Andy T Band up from Nashville to play. Kathy and Andy are tireless in their contributions to the blues and in January 2017, Kathy was awarded a KBA, for those efforts. The evening was a great success, raising $10,000, which included a guitar signed by Bobby Rush, and the winner's photo with him. The generous purchasers of the guitar, at $1100, were Jim & Melinda Davy (pictured).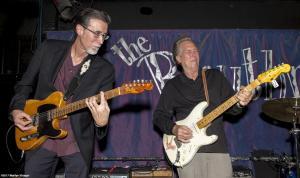 The Andy T Band was the opening band and then continued for the next six hours as the house band.  His band includes Andy T (guitar), Jim Klingler (drums), Larry Van Loon (keys), Lee Worner (bass), and the band's favorite friends – Anson Funderburgh (guitar) and Bob Corritore (harmonica). The other blues warrior for the night was Brian Fahey on drums for a couple of sets.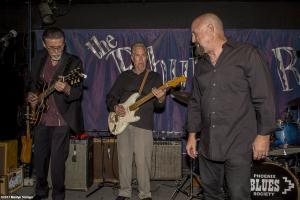 After Andy's full set with singer Alabama Mike, the dynamic duo of Bob Corritore and Dave Riley were backed by Dave's son Yahni on bass and Brian Fahey on drums. Then, backed by the Andy T Band, Bobby Rush came up and did a boisterous set both on harmonica, and then solo on guitar. Bobby flew in just to do this set (thank you MizLowe) and then flew to the Grammy's to accept his first-time win. His generosity of spirit and accessibility endears him to everyone he meets. After Bobby did his set, Kim Wilson came up did a set with the band.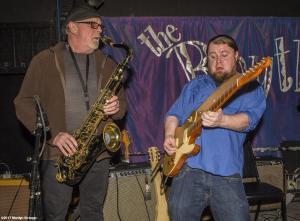 Adrianna Marie & LA Jones have been regulars at this annual event. And this year, they came as newlyweds and Adrianna had a big new bass she is now playing. Their horn section included Joseph Leyva (trumpet), Bruce Rubio Bari (Sax), and Rex Amend (Tenor Sax). Bob C and Brian F joined them for their set. And closing out the night were Jeff Simon (drums) and Buddy Leach (sax) from The Destroyers who were joined by Lee Worner (bass) and filling in on guitar and vocals, all the way from Florida, was Damon Fowler. He told Janice if he could ever help her, let him know.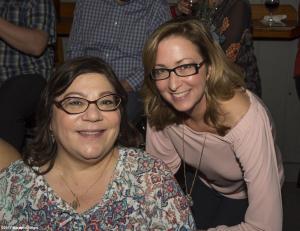 Thanks to Janice, Kathy, Bob C, all the band members who donated their time, The Phoenix Blues Society for their support, and all the fans who came and had a great evening of the blues.