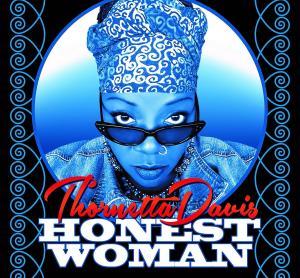 Thornetta Davis tells us that the songs on Honest Woman have been 20 years in the making. During that time she has lived, loved, learned and experienced life's triumphs and tribulations. As we hear her perform these songs, we understand she has navigated her journey as best she could, and she has emerged a bit tattered and torn, but emotionally and spiritually strong.
Honest Woman, on the Sweet Mama Music label, features 13 tracks with a running time of just over one hour. Production and sound quality are excellent. The mix showcases the vocal performances and heightens the spacious quality of the music itself.
One run through this album and folks will immediately understand why Davis is known as "The Queen of Detroit Blues." These tracks are a great mix of styles and tempos, and Davis' vocals are compelling. The first track is a spoken track, a lead-in if you will. The remaining 12 tracks are all captivating indeed. Listeners will find themselves pressing the Repeat button several times before they are able to walk away.
As always, we had our favorites. "Set Me Free" is Nina Simone, Sarah Vaughan, and Tina Turner merging into one being for three minutes and thirty-five seconds of unabashed glory. Two gorgeous slower tracks that captured our attention and held us rapt for the duration were "Am I Just a Shadow," sweet old-school R&B, and "I'd Rather Be Alone," a gospel-tinged, Stax-flavored delight.
Other stand-out tracks include the wonderful review style romp "I Believe (Everything Gonna Be Alright)," and "Get Up And Dance Away Your Blues," a Memphis revival inspired performance that will do a body good! We also enjoyed "Can We Do It Again," a jazzy cut oozing supper club allure, and definitely the most "Detroit" cut on the album.  The title track lifts the spirit with its Staples Singers essence and superb vocals.
The players on the album are every bit as solid as Davis' vocals, truly a worthy match for her expressive talent, and they do each other proud.
Honest Woman is a what a great album is supposed to be; Unrelenting, captivating, and holding us so we don't want to let go. Do yourself a solid and pick this up today – you will thank yourself later.

Honest Woman by Thornetta Davis
Label:                Sweet Mama Music
Running Time:    61:00