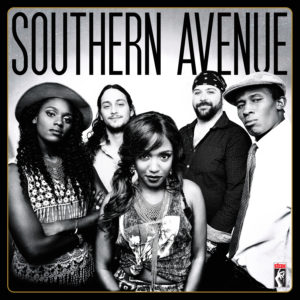 The nuts and bolts of the band, Southern Avenue, come from various places. Their eponymous debut release on Stax Records, proves that the great American melting pot is alive and well.
The day before the official release, we chatted with band members, as they prepared for a performance in New York. Even in the early morning, they were ready to share their story.
Named after a famed street in Memphis, Tennessee, that ends at Soulsville, USA, Southern Avenue is a unique blend of musical backgrounds, and cultures, that come together in a phenomenally sounding unit.
Guitarist, Ori Naftaly, hails from Israel. Influenced by his father's collection of blues, rock, and jazz CDs, he began playing guitar at the age of five. Keyboardist, Jeremy Powell, is a Bluff City native, and alumnus of the Stax Music Academy. At the SMA, students study vocals, instrumentals, music writing, music theory, production, and most all other aspects of creating music. Then there are the "soul sisters," of the group. Lead singer, Tierinii, and drummer, Tikyra (TK) Jackson. Natives of the "M", Tierinii and TK are the daughters of ministers, raised in the church on Gospel music.
"Ori came over to America a few years ago to compete in the International Blues Challenge with his solo band," begins Tierinii. "They did pretty well, started touring, and were pretty successful, but at some point, Ori just wanted a change. That's when he stumbled upon me, and the timing was perfect. I toured with his solo band for like a summer. After that, we instantly knew we needed to re-brand, and create something new. He let his solo project go, I let my solo project go, and we came together. I brought my sister in, and Jeremy's always been right there with us, when he could, so we just made everything official. We started writing new songs, and it's been more of a collaboration than either of our solo projects were, or ever could have been."
When we asked about the musical origins of the sisters, TK was quick to fill in the info. "I'm almost the youngest child in the family," she says. "I grew up watching our parents, who are musicians at our church. I kind of hopped the rails from instrument to instrument, and drums eventually became my thing. I've been playing drums every Sunday, at church, since I was ten years old. Tierinii and I are six years apart, and before I was born, her and my other siblings already had a singing group. So we've been together in this for a long time. We were just born into it I guess."
We figured, being from Memphis, the sisters grew up surrounded with the sound of soul music as well. Ori was quick to point out, "There's a lot of soul in the Middle East too. Let's not forget that." (Laughter)
Southern Avenue has been making big waves in music since their foundation. "It has been the craziest year and a half," TK says. "Our lives have changed so much. It's definitely been a blessing, and to see such positive feedback from it is just awesome."
Ori responded, "A lot of people ask us, if when we made the band name, we thought we were going to sign to Stax. No. We just thought it was appropriate for what we do." He continued, "It's kind of crazy. We recorded an EP in December of 2015. We competed in the IBC, and made the finals, representing Memphis. Then we were kind of shopping with the EP, to see who wanted to help us make a full album. We talked to several labels. Then when Stax came, they shuffled the cards, and we were just overwhelmed. We didn't expect a major label like that to take us so early. We were ready to grind it for years."
When we asked about Jeremy's history with the band, TK started laughing. "Here, let me tell you," she said through her laughter. "Jeremy has grown up in Memphis, like we did. Everybody knows who he is, especially on Beale Street. Not only is he talented, but he's such a great person." She continued, "I'm only 21. I'm pretty young and this is one of my first big projects. But coming into the band, and being surrounded by such great energy, and great talent, is just amazing. When we decided to make Jeremy and official member of the band, I was so excited. He's been with us through all our biggest ups and downs."
Ori interjected, "Jeremy played with my band as well. We've played together for years."
On another note, Ori shared, "I grew up listening to Memphis music. When I met Tierinii, I knew she was a great singer, but there's a lot of good singers in Memphis. I was looking for a writing partner. I wasn't just looking for someone to sing the songs. That's what I'm so happy about. We have fun writing together. That's what I really discovered with her. There are so many female singers in Memphis, that sound genuine, and they're great. But, creating music together is a whole different process. So I was very lucky."
Once again, TK added, "And because she came with an awesome sister!" (More laughter ensues)
Ori continued about the album, "The first record is kind of a timeline of us, as a band. '80 Miles From Memphis,' I wrote about three years ago. I also wrote, 'Don't Give Up,' but 'Wildflower,' and 'It's Gonna Be Alright,' basically, all the other songs are collaborative. The writing we're doing for the next record, it's all of us now. It started with me and Tierinii, but TK also writes. Jeremy writes. So we're collaborating a lot more now than when we first started. It's organic. It's normal for us. That's how it should be."
Their cover of the Ann Peebles' classic, "Slipped, Tripped, and Fell in Love," is spot on. However, Ori told us, "You should have heard my vocal take on that song. It was beautiful." The room absolutely erupted in laughter. Reminiscent of siblings gathered together, sharing old memories, this is so much more than a band. It's a family.
TK summed up the makeup of Southern Avenue best. "I want the world to know that I believe we're a new generation. A lot of what we have to offer, and what we have to bring is not only something that we're discovering, but that you guys will be able to be on that journey with us. It's definitely going to be a life journey that's very inclusive of everybody who has gotten us this far. Especially our fans, and everybody who is important to us."
Although the release tour is already underway, the big release party dates are Friday, March 3rd at Loflin Yard in Memphis and Saturday, March 4th, at The Beale on Broadway in St. Louis, Missouri.