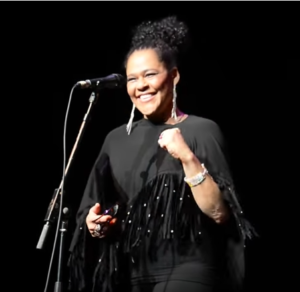 "I knew I would make it because it was my life. It really was."
Dawn Tyler Watson had three months to recuperate from her triple bypass before competing in this year's International Blues Challenge. She may have thought that was enough time, but her doctor didn't.
"He said, 'Dawn, if you're on stage and you feel any pain, any chest pain, I don't care if you're in the middle of a song, you need to stop, go sit down, squirt this shit under your tongue, wait five minutes and if it doesn't go away, do it again, and get your ass to an emergency room. I don't care if you're on stage in the middle of a show.'
"And I'm like, 'Ok, no problem.' He says, 'You have to choose your health over your ego here,' and I was like, ok, and in my mind I was thinking I would do that, but there is probably no way. I know myself. I would finish the song. It's my passion. I'm in that moment. I'm in that giving 100%. This is my all. This is what I'm born to do. This is what I love doing, and if I die on stage, I'll be a happy camper, you know? Seriously!"
Making it through her set at the finals was one hurdle, but taking first place? Come on! A former self-proclaimed wild child from Montreal with one foot in blues, another in jazz and a vestigial foot in acting, she's seemingly too eclectic to win the IBC. If her friend Shakira S'Aida didn't take the prize a decade ago, what made Dawn think she could take the crown?
After the set, she knew she'd nailed it. I did, too. This was the best group of finalists I'd seen in 20 years, and I knew 30 seconds into her set, she was the top draw. But backstage she had the jitters.
"They'd announced the third place. That band was killer. Was it Rae? (Rae Gordon & The Backseat Drivers).  And I was like wow, they were killer. Ok, there was a chance. I was thinking we might be second, you know? And then they announced the second place band, and I was like, 'Oh shit. Is it possible we didn't get in the top three? Is it possible we're gonna win?' Then, they announced (my guitarist) Ben (Racine as the Gibson Guitar winner). I think it was Ben, or between the second and third place band after Ben, and I was like, 'Oh, my God. They noticed Ben. That's pretty cool.'
"This was a total surprise to all of us. We weren't even thinking about instruments. We were thinking about the big prize. And then when they announced my name, I was like shocked, just shocked and overwhelmed and just super proud of my band."
Dawn wept as she clutched her award, telling the audience about her bypass. And it wasn't just about her. "These guys took time out of their lives to go down there for free. I put everything on my credit card 'cause I wasn't able to do a lot of fund raising with the blues society. I wasn't able to work. I was recuperating. And the guys took time off. Some of them have day jobs and little kids and wives and girlfriends. They all do, actually, and they took a week off to go down to Memphis and play for free for us to win.  I was thrilled. I was super thrilled mostly for them. I didn't realize how big a deal it was until afterwards.
"I know there's a prize package, but I didn't realize that this thing actually does what so many Canadian artists want to do, and worldwide artists want to do, break into the American scene. This like actually singlehandedly can put me into the American scene."
She and Shakira S'Aida are cut from the same cloth: sophisticated, cultured, big city women who carry themselves like the veterans they are. "Yeah, I love that girl, man. She was amazing and a super big help to me as well and coaching me and helping me out, giving me pointers 'cause she's been down there often. She competed I think one time, but she goes down and hangs out, and so she's seen her share of these competitions as well. I'll tell you coming down with a bunch of white boys from Quebec, you know? Like what am I doing here? I've been living in Montreal going on 30 years now."
She stops.  "You're supposed to say, 'You don't look that old.'  Then she cackles.
"I was raised in the Catholic Church. People automatically assume I started doing music in church. No, I was Roman Catholic, and we were singing "Kumbaya."
"Back in '92 when my life kinda turned around I went to my first like non-Catholic Church, and I was like wow! 'Cause I always believed there was something greater than me, but my self-esteem was so low. I thought 'Yeah, there's a God. He will help you. But he won't help me. I'm just a piece of crap, right?' So, because addiction is a very devious thing that will pull you down.
"We all come into this world as an innocent little Godling. This is what I think, and somewhere along the line we lose that. So, to come back to the human race and say, I'm worth this. I can stay sober. I can have a life. I can become something. This is rebuilding your self- esteem and your love of self-talking your part in the human race. This is recovery to me.
"I rediscovered a spiritual connection. I mean I may choose to call that power God. Someone else may choose to call that the creator. Someone else may choose Alla. Someone else may say Jesus. Somebody may say the spirit of their grandmother who's in heaven. For me when I got sober, when I quit drugging, drinking and running wild, that's what I really did from the age I was 13, I was pretty crazy."
In 2004 she starred in the film Jack Paradise. "So, yeah, Gilles Noel, the producer,  came into the jazz club and they heard me and they said, 'We're gonna do this movie, and we need a jazz singer, and you're Curly Brown. You're the heroine in the movie, not the heroine, but the female whatever.
"So, I was like a year later I got a call to come in and do the sound test, and with a guy named Ray Dupuis who you may know as well because he's internationally known for his role in Nikita, that show that's shown in like 50 countries and translated into like 30 languages.  Anyway, he's the Brad Pitt of Quebec.
"They called me up, and I auditioned, and I got the part, and in 2004 they released the film. It told the story about a black singer and a white piano player set in the '20s through the '70s which was a really rich cultural time here in Montreal for jazz. Like everybody played here, Ella Fitzgerald, Louie Armstrong. Anybody who was anybody played in Quebec at that time in Montreal.
"I was lucky because a jazz singer is basically playing myself and I based the Curly Brown character on my own life. I could totally relate to Curly. She was a little black kid who sang, had a lot of talent, loved to – she was young. So, she would sit outside the jazz club, and listen, try to sneak in all the time back in the '30s and '40s and finally, when she hit 18, she went in. They discovered her, and she started a career as a singer, and she always dreamed of going to New York and making it big and fell in love with this white piano player, and at the time, of course, black and white relationships were kind of frowned upon. He fell into drugs, and he became a bit of her savior.
"Then, he married a white woman and had kids with the white woman which broke her heart. She took off, got deeper into drugs and depression and ended up in New York eventually. Anyway, in the end, they came back together, but I could understand Curly's passion for the music, and drive to succeed.
"I don't have a drive to succeed. I have a drive to do music because I love music. I love singing. I think in that respect playing her was easy, but acting?  I mean I studied acting, but acting is not my passion. Music is. My agent at one point said, "Well, Dawn, look we've got to do some voice overs. We need some new photos.
"She would send me the script to do the audition, and it would be police woman number two or hooker number three, and I'd be going in there without really having the time to learn my lines properly and just on the off chance I'd get the part, and then if I got the point to make sure I wasn't on the road touring that I could actually do the shoot. So, I had to give up acting, long story short.
"Music for me is just so much easier. When I sing, I use my acting because I really believe a singer is a messenger of the song, of the lyrics whether I'm singing my own song or I'm interpreting someone else's. I find the emotional content, and I try to deliver that as strongly as I can to the audience.
"And that's what I teach, too, because I teach, and I mentor young singers, and I work with them, and this is what I tell them. You need to give your message of this. You need to give your interpretation of this message. What have you got to say? I don't want to hear how Adelle sings this song. I want to know what is important to you in this song."
One night last November Dawn was videotaping her last will and testimony on her cell phone. Three months later she was contemplating how taking top prize at the IBC can help her conquer America and the world. This from a woman who credits M. Lipscomb as the co-writer on "Son of A Gun" off her album Jawbreaker. But it's Matt Lipscomb, not Mance Lipscomb, the Delta bluesman. "It's a very rock and roll song. It's very Jerry Lee Lewis," she says.
And the world turns.