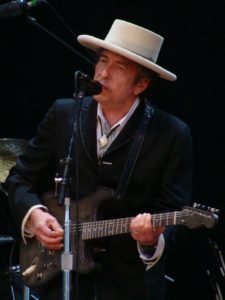 Stockholm, SE – Bob Dylan will finally accept his Nobel Prize in person during a tour which sees him in in Stockholm. As stated by Sara Danius, the permanent secretary of the Swedish Academy in a blog post on Tuesday at Ur Akademiens liv ("From the Academy's life"), "The good news is that the Swedish Academy and Bob Dylan have decided to meet this weekend. The Academy will then hand over Dylan's Nobel diploma and the Nobel medal, and congratulate him on the Nobel Prize in Literature."
Ms. Danius added, "The setting will be small and intimate, and no media will be present; only Bob Dylan and members of the Academy will attend, all according to Dylan's wishes."
When he finally actually acknowledged that he had won the Nobel Prize for Literature, the first recording artist to do so, the 75-year-old Dylan declined to attend the December award ceremony citing "pre-existing commitments" in a letter sent to the academy.
Patti Smith stepped in for Dylan with a beautiful performance of one of his, "A Hard Rain's Gonna Fall."
In an acceptance speech written by Dylan and delivered by the U.S. ambassador to Sweden, Azita Raji Dylan exclaimed, "If someone had ever told me that I had the slightest chance of winning the Nobel prize," Dylan wrote, "I would have to think that I'd have about the same odds as standing on the moon."
As established by rules of Nobel Foundation, to receive the roughly $900,000 (8m kroner; £727,000) that comes with the Nobel Prize, the laureate must deliver a Nobel lecture, a traditional talk on a subject they have chosen. The expectation is that Dylan will send a taped version of his lecture to satisfy the requirement, which is not without precedent. Due to illness, in 2013 laureate Alice Munro sent a taped lecture instead of appearing in person.