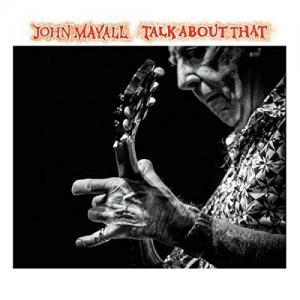 John Mayall is now 83 and shows no signs of slowing down. His latest album, Talk About That, out on Forty Below Records is at once classic Mayall, and so much more.
At this stage, Mayall has nothing left to prove to anyone. He is still relevant and in fact triumphant because he hasn't stopped pushing his own boundaries, and he's never stopped exploring and expanding his musical vocabulary. That he is not in the Rock and Roll Hall of Fame is almost criminal.
Talk About That is Mayall's 66th album. On this outing he plays keyboards, harmonica and guitar as well as serving up his familiar vocal stylings. He is joined by Rocky Athas on guitar, Greg Rzab on bass, and Jay Davenport on drums. The fellas are tighter than Murderers' Row throughout. The 11 tracks contain eight originals and three covers. Production and mixing here are effective in really showcasing the layers of instrumentation, especially when the horns drop in for a visit. The sound quality is stellar too.
In our opinion, this is the some of the best music that Mayall has laid down in years. Talk About That is exciting, varied, and satisfying, and will be viewed as a milestone work, in much the same way 1993's Wake Up Call, and 2003's 70th Birthday Concert have been.
There is so much to love on this album, it's hard to know where to begin. We have the inspiring rendering of the classic "Goin' Away Baby," with an updated feel that tips a hat to the original, but oh how the band stretches out and throws down here. There's guest Joe Walsh bringing his biting, bluesy fretboard dancing to the fore on "The Devil Must Be Laughing," and fine work on "Cards On The Table" as well.
The band's back-beat is stout and solid throughout; it doesn't waver. It is the foundation upon which this masterpiece is built. Greg Rzab on bass reminds us of the melodic work of James Jameson of the Funk Brothers. His integration with Jay Davenport on drums is beyond… well, just beyond. Rocky Athas on guitar is a breath of fresh air. He thrills, he excites, he seduces, he calms, and he touches us. What more could anyone ask of a band?
We sat there, completely lost in "I Didn't Mean To Hurt You," and we lingered there. "Don't Deny Me," with its delightful Stax flavor was deeply gratifying. "Blue Midnight" is jazzy, breezy, and put a big smile on our face.
If for some incomprehensible reason fans have not snagged a copy of Talk About That their very own, what are you waiting for?
Talk About That by John Mayall
Forty Below Records
11 Tracks
Running Time: 48:00