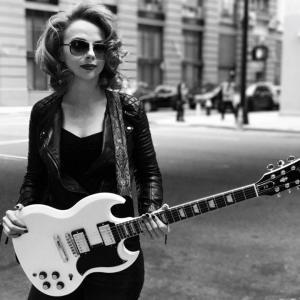 In History of the World: Part One, Mel Brooks, as the King of France says, "It's good to be king!" These days, Samantha Fish could be saying, "It's good to be young, and full of soul!" The vibrant, spunky guitarist and vocalist has been packing venues with her high octane shows for years now. Onstage, she performs with the grace, and poise of those twice her age. Her unbridled passion amplifies her already intoxicating persona, carrying her to ever greater paths of exploration and self-discovery.
Fish's latest album Chills & Fever, out on Ruf Records drops the 17th of March. A collection of 14 covers, the album showcases one brilliant performance after another. What really sets this apart from her previous work is the modern soul interpretations of several of the tracks. While her past work has done very well, this is the album that is really going to launch her into the spotlight, and it couldn't happen to a more deserving artist. One of the hardest working performers around, Fish is also one of the most charitable and approachable artists out there. She has paid her dues, and then some.
American Blues Scene spoke with Fish about her career, the new album, the exciting new direction her music is taking, and her newfound interest in production.
Barry Kerzner for American Blues Scene:
We LOVE the new album!
Samantha Fish:
Glad you like it. It was really fun to make it. I've been wanting to do a bigger band for a while, so it was just a perfect time to do it. I love soul music. It just came together in the last year.
You've said that you consider yourself to be "a lucky girl." Do you still see yourself as that lucky girl? Do you still feel like that goal you are reaching for, whatever that may be, is still a long way off?
I don't know if you would call it luck, but it feels like it. I mean, just for people to enjoy what you do when you're an artist. It's part of a crap-shoot really. It's not always like that, so I do feel blessed that a lot of people connect with what I'm doing. We've been working so hard, and I know back home, a lot of people are working hard. I mean I call it luck, but it's just being persistent. Yeah. I feel lucky.
You've also said that you were enjoying the ride. This far along, are you still enjoying the ride? Has it gotten better? Is there something that you would do differently?
You know, I still do enjoy it. I think what makes it enjoyable is that you need to shake it up. We're adding three people to the band, so that certainly makes it exciting. At the end of the day, you have to be inspired by the music that you are playing. We do these tours for a couple of years, so maybe somebody only hears two shows in that time period, but I play those songs every night.

Really, what makes it enjoyable for me is that we keep going and making new records, and I write songs, and I got new people to play it with. All that definitely keeps it interesting, which makes it enjoyable. The shows have gotten better. We're playing bigger and better venues, festivals, and I can get the excitement from the fans and gain new fans. It's great: We're out there doing, and I get to play music in front of people. It's the best job I could ever wish for.
It certainly beats the 'ol 9 to 5.
It's tough sometimes, but at the end of the day, we step on the stage and get to play for an audience. I know that they have taken time out of their day. I know how much of an effort it is to be a fan of live music. You go out, and schedule it, plan for it, buy tickets, whatever. So for me it is humbling to share something like that.
The Allman Brothers, John Mayall, Warren Haynes, and other artists that have a large body of work, and you're getting there… The thing that they really enjoy is playing a song differently every night. They will improvise in the moment as opposed to playing a song the same way night after night. Do you prefer doing that, or do you try to play close to the record?
I feel that there are certain songs that you deviate on. Like changing the guitar solo, like if you are improvising that. I've gotten more excited about production lately, and putting on the show. Sometimes like working on bigger stages and light shows, and the whole show is centered around a kind of experience.

So, I think it just depends on the song and the moment. Like in my last show we were doing the last tour and there were moments where I could stretch out, and look at the band and we'd communicate, and once we get comfortable with each other. There's always improvisation, I mean, that's what keeps it a little interesting. For me, that's what helps me grow into the artist with that freedom to go where I feel. I feel like it's a balance.
Speaking of your interest in production, last year you had said, "I'm a little green at the moment; actually, I'm a little young and green at this point." You do seem really taken with it though, and that you were hoping to get into it and learn so much more. Do you still feel that way? Also, as it's been a year and a half since you said that, have you learned a lot in that time?
I've learned that I can't do everything. I try to wear too many hats sometimes, but you get used to that when you're leading your own band for so long. I hired a road manager last year which has just been a godsend, but it took a while for me to relinquish some control of things that I was doing. Then, you have to trust other people to do it for you.

As far as learning about the production side of it and putting on a show, I have learned more and more and more. It's just something that you work into; I'm with a bigger band, and it's just kind of a matter of working into it.
Let's talk about the album for a bit. Obviously, you do have a bigger band and you sound really soulful, like a souped-up Stax record. How are you feeling about the new band?
It featured members of the Detroit Cobras and we recorded it in Detroit. A guy named Bobby Harlow produced it and he's the leader and founding member of The Go;  Jack White was with them before he was in the White Stripes. He kind of met up with these Detroit punks. The Cobras are huge on the Detroit scene; they're like punk blues darlings. We utilized members of the band. The drummer, the bass player, the guitarist played with us. We brought in a horn section from New Orleans, so to me it was like, Detroit punk meets New Orleans, but it's an old soul record and then I'm thrown in there too. It's like  a whole bunch of flavors you mix up, but I think you can hear all that on the record.

I think all those regions meeting up together create a unique sound that's dynamic. There's cuts on there that are definitely soul sounding, but there's also rock and roll. I'm really feeling good about it. I can't wait to do it live really. When you do it in the studio, it's like a little snapshot, but then it's like, 'I have to wait four months to do this live…' I'm feeling really good about it; it was a great experience. I learned a LOT!
Your past few albums have been more rock oriented. And here… "He Did It" sounds like a souped-up Go-Go's or B-52s. I thought "Chills & Fever," was incredible because to me, that was a great take off on Peggy Lee with a winning '40s flavor to it, and then you threw in that kick-ass solo. It was like the '40s meets the '90s.
It kinda has that vibe to it. It's amazing how – I think it's working with members of the Cobras. They've been doing stuff like that for years; adopting those songs and create something modern and contemporary.

We did covers from the '50s and '60s, like soul music. A lot of it was from the Motown era, but some of it wasn't. It was our interpretation of these old classic songs that we felt really needed to be redone.
It's very cool the way you guys did that too. The songs are updated, but not so much that you can't recognize where they came from. You gave a nod to what came before and then you stepped out, but you kept the flavor of the older version.
Well, you never want to lose the full intent of the song; you know, they were SO well done. You're paying homage to it and I'm putting my self into it, but you don't want to lose everything that made that song amazing!
Another song we enjoyed was "Hello Stranger." That's a great '80s soul throwback, and your guitar in that was really amazing.
Thank you. I was using a sweeter like, Junior Kimbrough approach, you know with the scales he would use. We had a lot of fun re-recording that one, putting an almost Hip-Hop drum behind it, making it really phat. He's one of those guys that, everything that comes out of Junior Kimbrough is one hundred percent Junior Kimbrough. He's one of my favorite guitar players.
Yeah. It's so moody, but it really reaches inside you, and grabs you.
Exactly! If you are gonna do songs that are not your own and you're gonna pay homage to it, you find a way to make it your own somehow, but still keep something that keeps it close to the soul or the root of the song. But, you are not gonna do it better or note for note like them. It's just not gonna happen.
"It's Your VooDoo Working" was another song we enjoyed. It was a mix of swing and soul, with a hint of rock to it.
Yes, and some of the psychedelic stuff at the end… we tricked it out. It's a Charles Sheffield song. It's one of the songs we took liberties with, stretching out a bit. That's probably one of the songs we can stretch out on live.
"Either Way I Lose" is totally cool.
Thank you. I don't know if Nina Simone wrote that; she wrote a lot of good stuff. That's a Nina Simone song.
The song is so slow, SO atmospheric, and the sax solo in there is spot on. It's like the old David Bowie work where he would build just this incredible tapestry of sound with the music. To us, that was how y'all did this song. It's really memorable.
Thanks. She's one of my favorite performers and writers; and theres all the passion and what she brought to it. It's one of my favorite songs on the album because there's so much room to put in all these emotions. I felt like the band really made that song kind of beautiful, and there's so much space, and… yeah. That's another one that's gonna be an adventure to play live.
Even though you are still young, you have been doing this for quite a while now. Given that, what advice would you give to artists who are just starting out, and those folks thinking about getting into the music industry?
I don't know, because my advice has changed over the years. Sometimes it's fairly pissy and jaded, but I think overall, the resounding thing, and I don't want to be vague, I think the only thing you can do as a young artist is you have to create something new that people haven't heard. It's a fine line though. People have to be able to relate to it, but you have to create something new. Especially if you're doing something like i'm doing, paying homage to roots music. We do a lot of blues, but like this last record is soul, or we do Americana. There's a lot of things that we touch on.

You have to put your own spin on it. You have to find a voice. Like I said: You're never gonna be better than the original, or the master. You have to find a way to be heard and you have to have something to say. I'm constantly trying to find my footing there too.

Also: You're gonna be working really hard, long shitty hours, so get used to that. If ya can't handle it, it might not be the right field just 'cause touring can be brutal sometimes. You have to be able to withstand all that. It's worth it!
Anything you want to say to your fans?
Well, as far as this record goes, it's a little bit of a departure, but I don't think it's too far. It's so me; it's my guitar and my voice. I just can't wait to see them at the show. I appreciate everybody's support through reinventions and everything. I can't wait to play this live, and I'll see them out there.