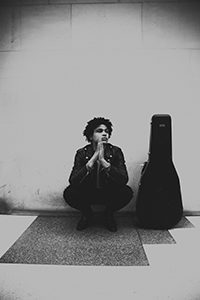 Joe Fox has dropped his new single "Aftershow" on all digital streaming partners, and it introduces the young Londoner as one of Britain's most prodigious talents. This newest performance by "Britain's 'Raw, Unfiltered' Songsmith" highlights the talents of the elusive artist and features Dap Kings Members!
The brilliant "Aftershow" is his first music to be produced and recorded with a band, including Homer Steinweiss (drums), Thomas Brenneck (guitar), and Nick Movshon (bass) members of the legendary Dap-Kings and Menahan Street Bands. A marked departure from Fox's original guitar-and-voice roots, "Aftershow" is a glimpse of what's to come from his evolving sound, with vocal harmonies and electronic atmospherics.
The song was produced by Leon Michels, who is best known as the co-founder of the Truth & Soul production team and record label, a collaborator with The Black Key's Dan Auerbach in their band The Arcs, and as a founder of the Wu-Tang Clan-affiliated El Michels Affair.
Also out by Fox is the haunting B-side track "Sweet Song," an ode to his intimate, direct songwriting origins.
In the two years since his discovery by A$AP Rocky, Fox has gone on to receive praise from Complex, Pigeons & Planes, i-D, GQ, and The FADER, who called his sound "raw" and "unfiltered."
Fox's first-ever UK release 'Acoustic Alley Sessions' (Blue Flowers) was a collection of soulful, unadulterated songs. It illustrated why A$AP Rocky chose Joe to co-write 5 songs on his #1 album 'At.Long.Last.A$AP', following a chance meeting on the streets of London's Soho, where Joe was busking and selling CDs.