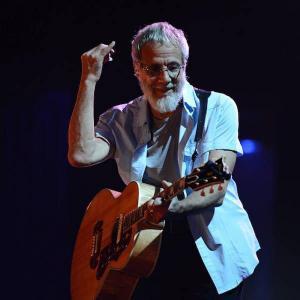 TEG Dainty and Live Nation, in association with Moonshadow Aus Pty, have announced that British singer-songwriting legend, and Rock and Roll Hall of Fame inductee, Yusuf / Cat Stevens will tour Australia in November and December. A Cat's Attic, "Peace Train Tour," commemorates the 50th Anniversary of his first major hit single, and debut album, Matthew & Son released in 1967.
The tour will commence on Wednesday, November 22nd, at Perth Arena and will travel to Adelaide's Botanic Park on Saturday, November 25th, Melbourne's Rod Laver Arena on Tuesday, November 28th, NSW's Roche Estate on Saturday, December 2nd, Sydney's Qudos Bank Arena on Monday, December 4th, and finishes at Brisbane's Entertainment Centre on Saturday, December 9th.
Having first found fame as a teenager in 1960s England, Cat Stevens grew from being a teen idol into becoming one of the most influential singer-songwriters of all time. In addition to his vast musical achievements, his lifelong spiritual quest, and search for meaning, has added intrigue and depth to a groundbreaking career.
Stevens achieved early success in the mid 60s with "Matthew and Son," "Here Comes My Baby," and "The First Cut Is The Deepest." In 1968 the heavy work load of non-stop appearances, and the excesses of a pop-star lifestyle took its toll and Stevens contracted TB. He was hospitalized for several months, and began a significant process of inner reflection and meditation. During this time Stevens began to question aspects of his life and spirituality. He also underwent a profound musical transformation.
From 1970 to 1978 he recorded and released the albums that would establish him as a leading singer-songwriter of his generation. His album, Tea for the Tillerman, from 1970, went multi-platinum in the U.S. and Australia with such songs as "Wild World," "Hard Headed Woman," "Where Do the Children Play?" and "Father & Son." It was Teaser and the Firecat in 1971 that made him a megastar. Songs like "Morning Has Broken," "Peace Train," and "Moonshadow," made it the biggest-selling album in Australia in 1972.
In 1975, Stevens experienced another momentous, and life-changing event after nearly drowning in the Pacific Ocean. Following this he dedicated himself to the Divine path. Leaving music, he concentrated on education and humanitarian relief. The tragic events of 9/11 motivated him to, once again, take to the global stage. He spoke out in the media against the atrocities, against fanaticism, and war, and called for peace and unity.
In 2006 Stevens returned to mainstream music with the album An Other Cup, which was followed in 2009 by Roadsinger. 2014 was another monumental year, as he released his fourteenth studio album, Tell 'Em I'm Gone, and was inducted into the Rock and Roll Hall of Fame. He is currently working on a children's animation series and writing his autobiography, which is expected to surface next year.
Many of us grew up on the music of Cat Stevens in the 60s and 70s. We'd like to hear your thoughts and memories in the comments.