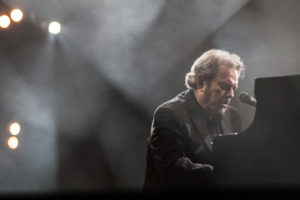 A Celebration Of The Music Of Jimmy Webb: The Cake And The Rain, the star-studded May 3rd event at Carnegie Hall, celebrates "America's Songwriter" Jimmy Webb. Presented by City Winery, the event will celebrate Webb's singular legacy and his timeless hit songs, including "Wichita Lineman," "MacArthur Park," "Galveston," "Didn't We," and "All I Know." Proceeds from the concert will be donated to the Alzheimer's Association and the I'll Be Me Foundation in honor of Jimmy's dear friend Glen Campbell.
The full lineup includes: Liz Callaway, Ashley Campbell (daughter of Glen Campbell), Judy Collins, Art Garfunkel, Amy Grant, Catherine Zeta-Jones, Toby Keith, Hanson, Marilyn McCoo and Billy Davis, Jr. (original members of the 5th Dimension), Graham Nash, Johnny Rivers, Shelèa, and Dwight Yoakam. Oscar-winning actor Michael Douglas will speak and Webb will perform as well.
This one-time concert event coincides with two milestones. Webb's new memoir, The Cake and The Rain, is out now through St. Martin's Press. Also, the 50th Anniversary of "Wichita Lineman," is upcoming. The Cake and the Rain is written as powerfully as Webb's lyrics and provides a snapshot of his unlikely rise in the 60s, whipsawed from the proverbial humble beginnings into a moneyed and manic international world of beautiful women, drugs, cars and planes.
Webb's songs have topped the charts in multiple genres with a stunning array of artists, including Frank Sinatra, Glen Campbell, Linda Ronstadt, Joe Cocker, Barbra Streisand, The Supremes, Donna Summer, Richard Harris, Nina Simone, The 5th Dimension, and many more. His numerous accolades include the prestigious Ivor Novello International Award (2012) and the Academy of Country Music's Poet Award (2016). He received his first gold record at the age of 18 and was the youngest inductee into the Songwriters Hall of Fame. His diverse songwriting style was especially apparent in 2016 when he premiered his classical piece "Nocturne for Lefty" and had his music featured prominently on Kanye West's Grammy-nominated "Famous". From the first crossover country pop hit with Glen Campbell, to a number one disco hit with Donna Summer, to a Grammy-nominated rap song, Webb remains the only writer to receive Grammys across writing, music, and orchestration.
City Winery founder, Michael Dorf, is known for his annual "Music Of" tribute series at Carnegie Hall. They have successfully raised over $1.3 million for music education programs in New York City. In the past, the "Music Of" series has honored David Byrne, Paul Simon, Prince, Neil Young, and many others.