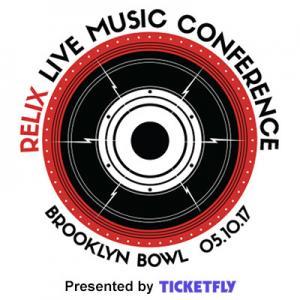 (New York, NY): On Wednesday, May 10th, Relix will host their Live Music Conference, a day for professionals in the live music industry to shed light on the fast-paced and ever-changing live music business and to bring together the leading figures in today's industry.
Held at Brooklyn Bowl, this one-day event will feature panels and discussions covering subjects related to venues, festivals, publicity and management, presentations on technology and non-profits, plus a keynote with two of live music's most legendary promoters. The conference will also provide opportunity for networking, discussion and education.
Relix has remained a constant for over 40 years fostering deep relationships with artists, managers, agents, publicists, venues, and festivals. The Relix Live Music Conference will serve as a coming together of all the pieces and people that help bring a live show to life.
Tickets include a full day of panels, lunch, happy hour, admittance to The Meat Puppets and Mike Watt & The Secondmen at Brooklyn Bowl.
Tickets on-sale now HERE
SCHEDULE FOR WEDNESDAY, MAY 10th:
 9am – Doors (Light breakfast + Coffee)
Hosted by Charley Ryan (Brooklyn Bowl)
9:30-10:15am – Talent Buying:
Moderator:  Kirk Peterson (Dayglo Ventures)
Speakers: Michael Dorf (City Winery), John Moore (Bowery Presents), Jim Glancy (Bowery Presents), Don Strasburg (AEG), Ben Baruch (11E1even Group)
10:20-11:05am – Festivals:
Moderator: Dean Budnick (Relix Media Group)
Speakers: Dave Frey (Lockn'), Jay Sweet (Newport Folk Festival), Dan Berkowitz (CID), Janine Small (Janine Small, PLLC), Robin McNicol (Superfly)
11:10am-11:25pm – Activism:
Andy Bernstein (Headcount) (Presentation)
11:30am-11:45am – Ticketing:
Josh Baron (Songkick)  (Presentation)
11:45pm-12:45pm – Break for lunch
12:55-1:40pm – Publicity:
Moderator: Mike Greenhaus (Relix Media Group)
Speakers: Ken Weinstein (Big Hassle Media), Emma Matthieson (Dayglo Ventures), Kevin Calabro (Calabro Music Media & Royal Potato Family), Rebecca Shapiro (Shore Fire Media), Jonathan Azu (Red Light Management)
1:45-2:30pm – Agenting:
Moderator: Lucas Sacks (Brooklyn Bowl)
Speakers: Seth Seigle (William Morris Endeavor Entertainment), Lee Anderson (Paradigm), Joshua Knight (Monterey International, INC), Jordan Wolowitz (Founders Entertainment), Kyle Wilensky (Creative Artists Agency)
2:35-2:50pm – Technology:
Justin Bolognino (META.is) (Presentation)
2:50-3:00pm – Short Break
3:00-3:45pm –  Management:
Moderator: Jake Szufnarowski (Rocks Off)
Speakers: Mike Martinovich (Red Light Management), Patrick Jordan (Red Light Management), Mike Luba (Madison House Presents), Stef Scamardo (Hard Head MGMT), Vince Iwinski (UMGMT)
3:50-4:30pm – Keynote:
A conversation with Peter Shapiro (Dayglo Ventures) and Ron Delsener (LN NY) moderated by David Fricke (Rolling Stone)
4:30-7pm Happy Hour + Open Bowling
7:00pm (Doors) All attendees are invited to attend Meat Puppets and Mike Watt + The Jom & Terry Show at Brooklyn Bowl