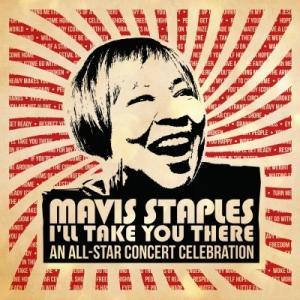 New York, N.Y. – Blackbird Presents announces the broadcast release, and audio/video release of Mavis Staples: I'll Take You There An All-Star Concert Celebration. This unforgettable, all-star concert features over twenty performances by artists spanning multiple generations and genres. Included among the performers are, Gregg Allman; Ryan Bingham; Win Butler, and Régine Chassagne of Arcade Fire; Eric Church; Otis Clay; Patty Griffin; Glen Hansard; Emmylou Harris; Taj Mahal; Michael McDonald; Buddy Miller; Keb' Mo'; Aaron Neville; Joan Osborne; Widespread Panic; Grace Potter; Bonnie Raitt; Marty Stuart; Jeff Tweedy; Spencer Tweedy; and special appearances by Mavis herself.
Mavis Staples: I'll Take You There – An All-Star Concert Celebration will have its worldwide, exclusive, broadcast premiere as a concert special on April 16th, 2017 on AXS TV at 10:00 P.M. ET/7:00 P.M. PT. The CD/DVD combo is available for immediate pre-order, and will be released on June 2nd, 2017.
"That night was really special," recalls Staples of the concert. "To be able to see so many of my friends up there performing songs that I've sung for years was just incredible. I couldn't wait to get up there and take the stage myself! It was a night I'll never forget."
Mavis Staples: I'll Take You There – An All-Star Concert Celebration was a once in a lifetime event created, filmed, recorded, and produced by Blackbird Presents at Chicago's historic Auditorium Theatre. The historic night brought some of the biggest names in music together to honor the Rock & Roll Hall of Famer, and American icon. Throughout an unparalleled career that spans over six decades, Staples' soulful songs of justice and equality have become a soundtrack for the Civil Rights Movement, and inspired countless other artists and activists.
"I was honored to have been able to produce a show of this magnitude for a legend like Mavis Staples." says Blackbird Presents' CEO, Keith Wortman. "To have this great project with so many amazing artists be the first release under our distribution agreement with Caroline is such an exciting moment, and makes this special event even sweeter."
In addition to the performances, Mavis Staples: I'll Take You There – An All-Star Concert Celebration includes exclusive interviews with many of the participating artists, exploring Staples' cultural and musical impact. Captured and presented in HD quality with true Dolby 5.1 surround stereo, the full-length concert film, and available audio recording spans Mavis' career from her beginnings at Stax Records, all the way through her recent work with Jeff Tweedy and Ry Cooder.