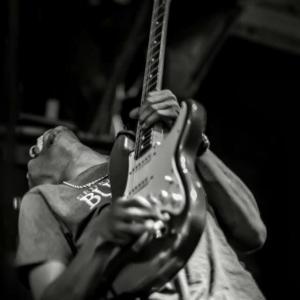 "The blues market is only about two to three percent of the music market, whereas if you look at rock, for instance—well that's more like forty percent. See, if you can corner that market, you can make more money," Trenton Ayers explained to me over a couple of cold Stella Artois on the patio outside of Proud Larry's in Oxford, Mississippi.
Wearing his signature black wide-brim hat, Trenton always looks like he's been working hard. Since The Cedric Burnside Project's album, Descendants of Hill Country was nominated for a Grammy for Best Blues Album, Trenton has toured Europe, Australia, and throughout North America. He's looking into the future.
"I'm a full-time professional musician," he said, giving me a deadpan look. He knows that he's a made man. Cedric and Trenton had recently returned home to Mississippi from playing several gigs in Florida including the Bonita Blues Festival in Bonita Springs. As we visited about guitar and leisure sports (he's a fan of Frisbee golf), Trenton periodically stood up, leaning over the railing through the glass at the stage to make sure he wasn't missing soundcheck.
He explained that his next album would be a rock album sounding more like The Electric Mudd, which was his band prior to The Cedric Burnside Project.
"People like to keep me in the blues, but I'm all over man," the guitarist explained. He has plans to collaborate with some other local musicians, including his former drummer from The Electric Mudd, Jason Boyles, to cut a rock album over the next few months for release in Japan.
Trenton rattled off names of his influences: Jimmy Page, Eddie Van Halen, Carlos Santana, Gary Clark Jr., Umphrey's McGee and even Pantera.
"Metal's not where my heart really is, but I'm learning it. I'm a guitarist."
During soundcheck, as promised, he shredded some heavy riffs, fanning his feathers before entering into the hypnotic riffs of the Hill Country blues with Cedric. I'm not sure what Trenton's next project will sound like, but I can't wait to hear it!