Editor's Note: One of the most under-recognized guitarists in the history of blues music will soon be inducted into the Blues Hall of Fame, Class of 2017. You've heard his raucous, distorted guitar countless times, but how much do you know about the great, Willie Johnson?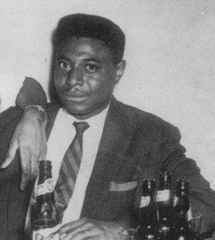 1. First, and foremost, Willie Lee Johnson is not to be confused with two other famous Willie Johnson musicians. There was, of course, Texas born, Blind Willie Johnson, who was recording his landmark sides, while this Willie was a child. There is also the great vocalist, William Luther Johnson who was a member of the renown, Golden Gate Jubilee Quartet, and Jubilaires. No, this particular Willie Johnson, also known as Willis Lee Johnson, was born in Lake Cormorant, Mississippi, on March 4th, 1923.
2. Raised singing in church, he got his first guitar as a gift from his father. Johnson has said, "It didn't cost but, I think, $1.75. It had a raggedy back on it and everything. But I learned to strum that thing pretty good." He began taking lessons from a local man by the name of Asa Bradford. He also learned early slide from Son House, and it was Howlin' Wolf who taught him to tune in E natural.
3. Johnson first met Howlin' Wolf in the late 30s, when he, Son House, and Willie Brown were playing together near Robinsonville, Mississippi. Johnson was around 14 at the time. After returning from the Army, Wolf recruited Johnson to be in his very first band. He had a jazzy, yet raucous style of playing, that Wolf had admired for some time. Other members of that group included harmonica player, Junior Parker, drummer, Willie Steele, and several pianists, including Ike Turner.
4. When Wolf moved to Chicago, he urged Johnson to accompany him. Comfortable playing in Memphis, and unsure about the Windy City, Johnson turned him down. By the time Johnson finally relocated to Chi-town, he found his spot on guitar had been given to Hubert Sumlin. Prior to the move, Johnson had been Wolf's main guitar man. They recorded under Sam Phillips at Sun Studios, as well as Joe Bihari at KWEM Radio in West Memphis, Arkansas. These sessions produced some of Howlin' Wolf's biggest early hits, including, "Moanin' at Midnight," and "How Many More Years."
5. James Cotton gave a different version of how Sumlin came to be Wolf's main guitar man. In the 2005 book, Incurable Blues: The Troubles & Triumph of Blues Legend Hubert Sumlin by Will Romano, Cotton was quoted as saying, "When Willie Johnson was drinking too heavily to play with Howlin' Wolf, I suggested Hubert, so he played with Howlin' Wolf for one night. I had played with Wolf for a few years, and knew him well. A week later, Howlin' Wolf went to Chicago…and later sent for Hubert."
6. Johnson was one of the first guitarists to employ distortion, while playing. Most noticeable on, "How Many More Years," this technique marks his place in history as one of the pioneers of electric guitar.
7. Johnson was an early go-to session musician in the area. He worked with artists including Willie Love, Willie Nix, Roscoe Gordon, and Bobby "Blue" Bland. In 1955, he recorded a collaboration, with Sammy Lewis, at Sun Records. The song,"I Feel So Worried," was released under the name, Sammy Lewis with Willie Johnson, hence giving Johnson his own first record.
8. Once Johnson moved to Chicago, he made his living, for the most part, outside of music. He did, however, occasionally sit in with some of the greats. He made a few more recordings with Howlin' Wolf, including the original 1956 recording of "Smokestack Lightning." He was a member of Muddy Waters' band for a very short time, and played with other local artists, most notably, J.T. Brown, Sunnyland Slim, and Kansas City Red.
9. One of the reasons for his inability to stay with the music scene, was Johnson's drinking, and fighting. He left the Howlin' Wolf band for the last time after a gig at Theresa's Lounge, in 1959. Wolf has been quoted as saying, "I don't mind the fights, but he wouldn't give me no rest." Waters concurred saying, "He was a good guitar player, but his head was bad. He got, what you call it, evil. He wanted to fight and that kind of thing."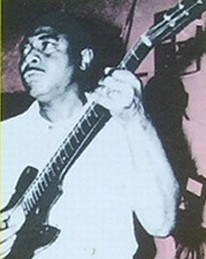 10. Willie Johnson made his final recordings for Earwig Music. Earwig's Michael Frank, produced five of Johnson's songs for  Wolf Records in 1989, that went unreleased. However, on June 2nd, 1994, Frank booked him to play the Earwig 15th Anniversary Party at Buddy Guy's Legends. He played an impeccable show with Sunnyland Slim, and Homesick James. The performance was so impressive, that it was talked about for months afterward. A series of rehearsals, with Slim, were scheduled in hopes of recording an album. However, Johnson died at home, on February 26th, 1995. It was just one week shy of his 72nd birthday.
Tell us what you know about Willie Johnson in the comments!