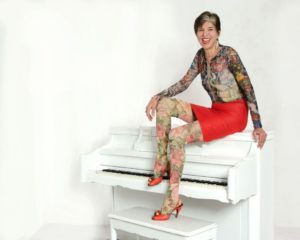 Austin, TX – On Thursday, May 18th, 2017 distinguished pianist, songwriter, and vocalist, Marcia Ball will be named an official 2018 Texas State Musician by the Texas State Legislature. The appointment will be formally announced through Texas House and Senate Resolutions at the State Capitol today. According to Texas State Representative John M. Frullo, "The great talents of the State Artists help contribute to a distinctive cultural identity that makes Texas a great place to live, work and visit."
Ball is thrilled to be receiving this recognition, saying, "I am honored and excited to be able to represent Texas musicians. I hope in some way I can raise awareness of the creative community that we are all a part of."
She has earned worldwide fame for her ability to ignite a full-scale, roadhouse rhythm and blues party every time she strolls onto a stage. The New York Times says, "Marcia Ball plays two-fisted New Orleans barrelhouse piano and sings in a husky, knowing voice about all the trouble men and women can get into on the way to a good time." American Blues Scene called her, "A force of New Orleans piano playing & a Texas roadhouse fireball who spreads her uniquely energetic brand of blues across the country."
Her signature groove-laden New Orleans R&B, heart wrenching ballads, and rollicking Gulf Coast blues have made her a one-of-a-kind favorite with music fans all over the world. Her songs paint vibrant pictures with richly detailed characters, flavors, and scenes straight out of Louisiana and Texas.
Born in Orange, Texas, Ball was raised in Vinton, Louisiana before settling in Austin in 1970. Raised in a musical family, she began playing piano when she first started school. She drew inspiration from the New Orleans piano sound. Renowned artists Professor Longhair, Fats Domino, and James Booker were her piano idols, while Irma Thomas served as her vocal muse. Her own musical style is a combination of swamp blues, zydeco, and boogie-woogie. Although she began her solo career with Rounder Records, she signed with Alligator Records in 2001, and has been with that label since.
Ball holds ten Blues Music Awards, eight Living Blues Awards and five Grammy Award nominations. She has been inducted into both the Gulf Coast Music Hall Of Fame, and the Louisiana Music Hall Of Fame. Her love of the road has led to years of countless performances at festivals, concert halls, and clubs all over the world.
Candidates for Musician of the Year are submitted by the public with final selection left to a special committee. Jimmy Vaughan and Joe Ely were the 2015 and 2016 selections, while George Strait will receive his honor as the 2017 selection today as well. Other selectees over the years have included James Dick (2003); Ray Benson (2004); Johnny Gimble (2005); Billy Joe Shaver (2006); Dale Watson (2007); Shelley King (2008); Willie Nelson (2009); Sara Hickman (2010); Lyle Lovett (2011); Billy F Gibbons (2012); Craig Hella Johnson (2013); and Flaco Jimenez (2014).