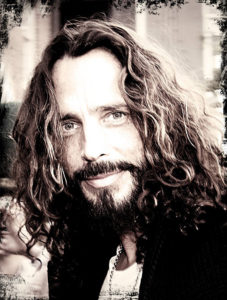 Detroit, MI — Chris Cornell, lead singer and rhythm guitarist for the grunge group Soundgarden, and songwriter and lead singer for the supergroup Audioslave has died. Mr. Cornell was 52 years old.
His representative, Brian Bumbery, said in a statement that the death was "sudden and unexpected." Mr. Bumbery also said the singer's family would be "working closely with the medical examiner to determine the cause."
Cornell had played a show at the Fox Theater with Soundgarden earlier in the evening, part of an ongoing tour fro the group.
Many artists are expressing their sadness and sense of loss.
"Shocked and saddened by the sudden death of @chriscornell. A great singer, songwriter and the loveliest man."  — Sir Elton John

"RIP Chris Cornell. Incredibly talented, incredibly young, incredibly missed." — Jimmy Page

"SO SO stunned to hear about Chris Cornell! Such a terrible and sad loss! Thinking of his family tonight! RIP" — Dave Navarro (@DaveNavarro)
Cornell came to prominence as part of the band Soundgarden, a founding pillar of the grunge movement of the 1990s. The band consisted of Kim Thayil on guitar, Ben Shepherd on bass, and Matt Cameron on the drums. In 1994 Soundgarden released Superunknown. The album was nominated for a Grammy Award for best rock album. That year, "Black Hole Sun," won the Grammy for Best Hard Rock Performance, and "Spoonman" won a Grammy for Best Metal Performance.
Although the group went their separate ways 1997, they reunited in 2010 and had been performing fairly regularly in recent years.
In 2001 Cornell joined Audioslave, a rock "supergroup" consisting of members of Rage Against The Machine, including Tom Morello on guitars, Tim Commerford on bass, Brad Wilk on drums, with Cornell as lead vocalist. Audioslave released three albums before disbanding in February of 2007.
As a solo artist, Cornell had toured and released several albums including Euphoria Morning in 1999, Carry On in 2007, Scream in 2009, Songbook in 2011, and Higher Truth in 2015.
He had once told CNN, "If I write a song and put it out there, it's not mine anymore. It takes on a life of its own, and when you listen to it, it becomes your song. And over the course of generations, those meanings will change."
Watch this space for more details as they become available.