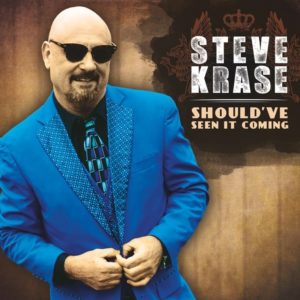 "This film should be played loud!" So read the title card of the extraordinary concert film, The Last Waltz. The same can be said of the music coming from Steve Krase. He likes it hard, fast, and loud. With that thought, his new release Should've Seen it Coming, delivers in spades.
Originally from Brooklyn, New York, Krase has spent three decades in the Houston, Texas music scene. A self-taught, ace harmonica player, he spent time with Jerry Lightfoot and The Essentials, and Matt Leddy & The Meatcutters before forming his own band. Steve Krase & The In Crowd, twice made it to the IBC finals in the early 2000s. Wowing Houston crowds on a nightly basis, he most recently made the semi-finals again this year. He's also the powerhouse harpist behind Trudy Lynn's Connor Ray albums.
His 4th Connor Ray Music release Should've Seen it Coming, starts out with the spirited, "Brand New Thang." Written by Dr. Rockit frontman, Rock Romano, it sets the tone for the entire release. This is a party record. One of those you drop the needle on, and turn it up. Mark May's tasty guitar work is all over the first cut, with Krase's harmonica blending in nicely. Romano also owns Red Shack Recording Studio, where this project was done in just two days. It never hurts to get the boss involved.
Speaking of bosses, the second track is a cover of Willie Dixon's "Crazy For My Baby." Krase channels Charlie Musselwhite on this one, adding elements of Little Walter. This combination couldn't be better if it delivered home-baked peanut butter cookies. Definitely one of our favorite tracks.
Another favorite is the jumpin' rendition of "Troubles, Troubles." Clarence "Frogman" Henry begat this ditty, and Krase and company do it up with some wild, vaudeville piano, and unbelievable harp work. That's not his only nod to NOLA. He also brings some modern Dixieland with his version of Fats Domino's "Let the Four Winds Blow."
Krase has a great sense of humor that shines through in his songwriting. It's also pretty illuminating while updating a classic or two. His cover of the 1950s Jimmy Rogers hit, "The World is in a Tangle," is updated to the 21st century. "The World's Still in a Tangle," has Krase building a bunker to hide from zombies.
Another bright spot on the record is the playful interaction between Krase's harp, and Alisha Pattillo's sax on "Repo Man." There are two versions of this song, as there are with the title cut. The two bonus tracks at the end are explicit versions. Speaking of the title track, Krase is at it again, lyrically, singing about an underage liaison that leaves him going away, for a long, long time. His vocals, sung through a green bullet, add a far away sound. It also makes its way through solos by his bandmates. Sure to be a live favorite.
Label mates, Trudy Lynn and Bob Lanza both appear on "Shot of Rhythm and Blues," which is pure South Texas.
All in all, this record does exactly what it's supposed to do. It puts you in a great mood. Whether it's an at-home fiesta, or a long road trip, Should've Seen it Coming will keep the party going. Just take Steve's advice and, "Turn it up!"
Artist: Steve Krase
Title: Should've Seen it Coming
Label: Connor Ray Music
Release Date: April 21st, 2017
Running Time: 1:01:37