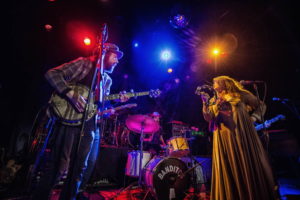 They slide through a 45-minute set like square wheels on a greased mudslide. Banditos are an Alabama gothic ragtag band. They gun it like Thelma and Louise on their last escape, except this convertible does a sharp left turn before they crash and burn. I call their sound orchestral primitive.
It's Tuesday night at Club Helsinki in Hudson, New York, a few miles north of Woodstock. Banditos are eight shows into a grueling 48-stop tour opening for Luceros, a Memphis punk country band 19 years and 11 LPs into their career. The two bands have already traveled 2000 miles in a week that's taken them from Nashville to Indianapolis; London, Ontario; Toronto; Montreal; South Burlington, Vermont; Portland, Maine; and Boston. Their second album, Visionland, has been out for four days on Bloodshot Records, home to Alejandro Escovedo, Justin Townes Earle, Neco Case, Wayne Hancock, Rosie Flores and Graham Parker, an impressive roster at a time when record labels – even indie labels – are supposed to be sinking like a tyrannosaurus in hot mud.
This six-piece band throws around influences like sprinkles on a birthday cake. Guitarist Corey Parsons tells me he's currently listening to Steely Dan, Jerry Rafferty, The Cramps and the Ramones. Their soundman hates Steely Dan, but everyone loves Paul Simon. "I was with Danny (Vines), our bass player when he got his first bass. They're the closest thing to family we have. We know each other better than we know ourselves."
While they're not a blues band by any traditional definition, they project a heartfelt bluesy energy in the same way Grace Potter did with the original Nocturnals. Guitarist Jeffrey Salter's technique recalls the bell-like quality of the late John Cippolina of San Francisco's Quicksilver Messenger Service. Mary Beth Richardson's vocals have a shimmering vibrato reminiscent of Patti Santos from the psychedelic band, It's a Beautiful Day. Parsons says simply they just like psychedelic music, so they slip that influence in along with Ramones punk licks and an overall dry ribs quality they make all fit just because they're that good.
"I think there's still regional sounds," says Parsons about the group's Alabama heritage. "I guess where we're from there's a twanginess to it for sure, but there's also a lot of passion behind music from bands in Birmingham and surrounding areas in Alabama because there's such a small scene there, but like what you're performing, you're really doing this not only to entertain other people but because you love it. We grew up in bands that played for ten people (a lot of times), so it's pretty inspiring."
Banditos have played the renowned showcase South by Southwest for four years. "It's like a weeklong party for us now. The first year we went we played like 16 shows in seven days. We didn't really know what we were doing, so it was kind of a headache, but Bloodshot actually did come out to see us at the actual workshop we played so I guess it was very successful."
While not specifically named after the Motorcycle gang, The Banditos whose motto is, "We are the people our parents warned us about," they have had members of the gang come to their shows. They do have a tinge of a WTF attitude in their playing, but most appealing about their sound is a laisse faire technique that allows them to turn around on a dime without ever jarring your sensibilities. This is a six-member strings and things band: two guitars, banjo, bass, drums and a vocalist who plays the kazoo. They can switch it up from R&B to country to psychedelic rock without you're even knowing or caring they've removed the chair from under you. Easily overlooked is banjo player Stephen Pierce who gives a funky edge to it all and sings lead on "Fun All Night" from Visionland.
Parsons likes the tag orchestral primitives. "Yeah, I haven't heard that before, but I can totally see that. I think really we're just into older music. We've never been too (dependent) on contemporary music. We all kind of formed this band by our similar taste in music. We grew up on oldies stations. We're pretty knowledgeable when it comes to '50s through early '80s music."