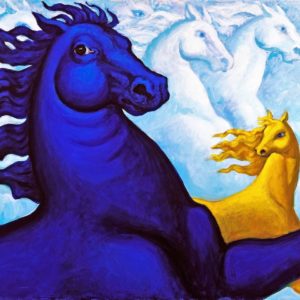 The first song "Unlocked" by the collaboration (more on that later) known as bluZ (pronounced "bloo-zee", as in bluesy) was "Blue Blue Ruin", track two on the album. "BBR" is a genre-defying song: the music is reminiscent of early Pink Floyd, combined with some very tasty blues guitar licks and an interesting percussive backbeat. It's a song about heartbreak, punctuated with a sax solo that whirls up a 3 AM New York City vibe.
Genre-defying characterizes bluZ's entire release. It's not rock, but jazz. It's not jazz, but folk. It's not folk, but…you get the idea. All along the foundations of each song though is that bluesy undercurrent. There's something else as well.
Although not a story album, Unlocked is, without doubt, a conceptual one. There is an arc of emotion that runs through the entire offering. It begins with the contemporary acoustic blues of "Club Blue." An actual blues song by anyone's definition, the lyrics provide a compelling story line. "So welcome to Club Blue, with a membership of two. Where love goes when it's lost. Where Lovers pay the cost Of a love that wasn't true." Sure sounds like the blues to us.
From there, the album takes us to "Blue Blue Ruin" and then to "Love's Wind," a haunting ballad with locked-in lyrics and classic rock overtones. The feeling of Pink Floyd flows throughout this one as well.
We delve deeper into heartache with "Entombed". The most heart-wrenching of the songs on Unlocked, it has a cabaret feel and deeply melancholy lyrics. Famed Czech model and singer, Iva Fruhlingova, joins bluZ's principal musicians, Levanti and Polansky (more on Daniel and Vasek later), at song's end with an almost prayerful whisper in French. It was enough to give us chills.
bluZ then rescues us from despair, while going almost fully unplugged, on "Daughter's Song." With its country vibe and loving lyrics, this is one of those songs that will be played at weddings for years to come. The song is a declaration of love, and hope, from father to daughter.
Those who like Georgia Satellites, or the more modern Blackberry Smoke, are in for a treat with the album's sixth song, "On Only Sunshine." This one has that country, southern rock texture, and continues our journey back out of the emotional depths along that arc of emotion we were talking about. "On Only Sunshine" will make you smile. It might even inspire you to get up and move.
Song seven, "In Heaven Reside", has a sweet reggae aura about it. As is always the case in bluZ's songs, the chorus contains some splendid vocal harmonies. The lyrics are thought-provoking, even "deep". This is one of those songs we had to listen to a few times. Not sure if the writer is talking of God, or reuniting with a lost love; we'll leave that for each listener to decide.
"Reign of Tears", the last song on Unlocked, is an even more spiritual ballad, much like the proverbial pot of gold at the end of rainbow. It is our prize at the end of this arc of emotion: redemption.
Skillfully crafted lyrics combined with masterful music make Unlocked a must have album. Lead singer Daniel Levanti's voice is soft, and emotion-filled. Evocative of Damien Rice meets Boz Scaggs, it's the perfect instrument for this offering.
Unlocked is not a party album. It's not something you throw in the CD player to dance to (except, perhaps, "On Only Sunshine"). If you ever have those feelings of lost love, like the rest of us, you tend to turn to sad music to play. bluZ has put out that album, with a lifesaving twist. There is redemption, even ascendancy, at the end. The best news is that fulfillment is just a play push away.
We were so impressed with the album, we wanted to find out more about the people who were behind its creation:
bluZ (pronounced like the word 'bluesy') has an interesting back story. bluZ is composed of one American expatriate, Daniel Levanti, and one Czech. They live and perform in Prague. But that's just the beginning.
Connecticut born, and Berklee educated, Daniel Levanti (guitar, keyboards, vocals) decided on his move to the Czech Republic after spending three nights in Prague while traveling. Writing music was on his mind, and he was soon doing just that. After a couple of years, he married a woman named Katia. An artist and actress, she began introducing Levanti to the artistic world of her home. Along that route, they met Vasek Polansky (drums, guitar, vocals).
While visiting the U.S., Daniel and Katia were introduced to a talented lyricist named Jay Z (the "Z" in bluZ, not the hyphenated one), who asked Daniel if he could wrap some music around one of his original lyrics. Upon their return to Prague, Levanti and Polansky composed the music and recorded that song, "Blue Blue Ruin". When Jay Z heard it, he immediately wrote more lyrics for the two musicians to blend into an album. And that is how Unlocked came to be.
The music is currently available via single MP3 downloads from the band's website. There are still more songs in the works that will be added before the album's official release in August.*
Artist: bluZ
Title: Unlocked
Label: Havepower, LLC
Running Time: 31:33*