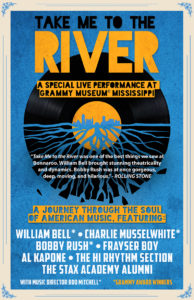 Cleveland, MS — GRAMMY Museum® Mississippi presents a live performance experience based on the award-winning film and record, "Take Me To The River", that brought together multiple generations of iconic Memphis and Mississippi Delta musicians to record a historic new album and re-imagine the utopia of racial, gender and generational collaboration of Memphis (Stax, Hi Records) in its heyday.
This historic show features a once-in-a-lifetime chance to see legends William Bell (2017 GRAMMY Award winner), Bobby Rush (2017 GRAMMY Award winner), Charlie Musselwhite (2013 GRAMMY Award winner), and Don Bryant (Memphis music legend) share the stage and perform classics and new "Take Me To The River" collaborations.
Backed by an ALL-STAR Memphis band, the event includes the Hi-Rhythm Section (27 Gold and Platinum records, All of Al Green's classics) and GRAMMY Award winner Boo Mitchell, award-winning director and GRAMMY Nominee Martin Shore, alumni from the STAX Music Academy, and special appearances from Academy Winner Frayser Boy and Critics Choice Award winner Al Kapone.  Before the performance, artists will discuss the importance and history of Mississippi music and how this region laid the foundation for American music.
In addition to a live performance, there will be an educational program for students plus a conversation with Charlie Musselwhite.
Collectively, these programs at GRAMMY Museum® Mississippi are an official bicentennial project made possible by a grant from the Mississippi Humanities Council, through support from the Mississippi Development Authority.
Where:     Grammy Museum MS
When:      Sep 26 , 2017
Tentative schedule of events:
11:00AM – Educational program for students grades K-12 in the Sanders Soundstage
TBA       – A Conversation with Charlie Musselwhite centered around John Lee Hooker in the Sanders Soundstage
6:30PM  – Live performance on the front lawn – free admission
Admission is FREE but, registration is required.