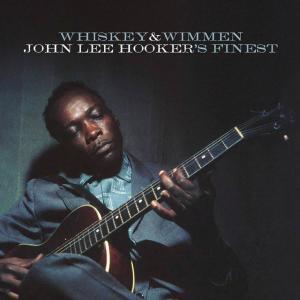 The son of sharecroppers, John Lee Hooker was born near Clarksdale, Mississippi on August 22nd, 1917. He was introduced to guitar by his blues singing step-father. At the age of 14, he ran away from home. He eventually made his way to a factory job in Detroit, Michigan, via Memphis, and Cincinnati. It was there, in 1948, his first recording, "Boogie Chillun," was made, selling over a million copies. His track to stardom was set, and the man who would become known as the "King of the Boogie" was destined for blues royalty.
To begin the centennial celebration of Hooker's birth year, Vee-Jay Records, a division of Concord Bicycle Music, will release Whiskey & Wimmen: John Lee Hooker's Finest, on March 31st. The multi-label compilation features songs from Hooker's Vee-Jay, Specialty, Riverside and Stax Records releases, and includes many of the bluesman's most iconic songs.
Electrifying the Delta blues he learned in his youth, Hooker developed a driving boogie beat that forever changed the game. Countless recordings, and a winding road through different labels and audiences, proved "The Hook," was a force of nature. He was a huge influence on the burgeoning British Invasion in the early '60s, and welcomed with open arms by the rock audience around the world. Hooker is a member of the Rock & Roll Hall of Fame, Blues Hall of Fame, Memphis Music Hall of Fame, has a star on the Hollywood Walk of Fame and won four Grammy awards. He performed with, or had his music covered by, music's elite, including Eric Clapton, the Rolling Stones, Van Morrison, Bonnie Raitt, Carlos Santana and many more.
Whiskey & Wimmen: John Lee Hooker's Finest is the perfect collection to honor the man. It includes many of Hooker's most exciting and time-honored recordings, showing how an artist who started with literally nothing but his inspiration and talent, was able to make such a lasting impact on music. Additionally, music journalist, Bill Dahl, contributes insightful new liner notes.
In the proud history of American music there have been a handful of blues artists who really did shape what the music became. They took the primal forces of Mississippi country blues and twisted and turned it into their very own creation. To hear how Hooker did that over the course of these 16 songs is a blood-rushing history lesson of all that he created. To have them all on a single disc is as convincing a collection as has ever been assembled.