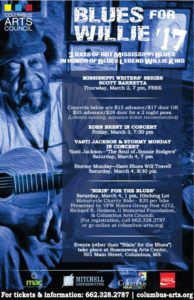 Columbus, MS – In a region recognized for an amazing musical heritage, this year's Blues for Willie Festival celebrates with "three days of hot music in honor of blues legend Willie King."
Events kick off with a Writer's Talk by Scott Barretta at 7 pm tonight. Barretta is the host of Highway 61 Radio, a blues historian, and an adjunct instructor of sociology and anthropology.
On Friday evening, March 3, at 7:30 pm Eden Brent performs. Ms. Brent is a masterful songwriter, powerhouse vocalist, and a knockout boogie piano player. The Mississippi native and multi-award winner is "Bessie Smith meets Diana Krall meets Janis Joplin".
Saturday, March 4, at 7 pm, another treasure of this region,
Vasti Jackson
will perform a Concert, "The Soul of Jimmie Rodgers." This Mississippi native's above-titled CD, a musical journal of "how country got the blues", was nominated for a Grammy Award for Traditional Blues. A stunning vocalist with a fiery, innovative hand on the guitar, Jackson is a recipient of the 2015 Albert King Lifetime Guitar Award and has been singing the blues for over 40 years.
Also on Saturday evening, March 4, at 8:30 pm Stormy Monday performs a show, "Have Blues Will Travel!" These Mississippi blues boys know how to rock the blues, from well-crafted original tunes to music from legendary blues artists. The band and their ripped blues close out our weekend party in honor and memory of our beloved friend Willie King.
Concerts are $15 advance/$17 door or $25 advance/$28 door for a 2 night pass. As seating is limited, advance tickets are recommended.